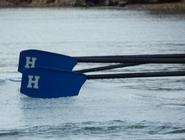 Three Hamilton College athletes have been selected for the 2015 NESCAC Men's and Women's Rowing All-Conference Teams.

2015 NESCAC Rowing All-Conference Teams

Caroline Walton '15 (Skaneateles, N.Y./Skaneateles Central School) was placed on the women's first team for the first time after she was on the second team the past two years. Erin Gerrity '15 (Haverford, Pa./St. Andrew's School [Del.]) made the second team. A total of 20 rowers and coxswain made the women's all-conference team.

Parker Lewis '16 (Lawrenceville, N.J./The Hun School of Princeton) is one of 10 athletes on the men's second team and one of 20 on the all-conference team. Lewis is the stroke for the Hamilton men's varsity 8.

Walton rows in the 6-seat and Gerrity is the stroke for Hamilton's nationally ranked No. 4 women's varsity 8. The Continentals were selected to compete in their first-ever NCAA Division III Women's Rowing Championships on Monday night. The program was awarded varsity status prior to the 1998-99 academic year.