Six Spend Semester Studying in India
---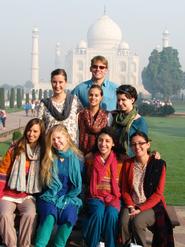 Six Hamilton students spent the fall semester on the New York State Independent College Consortium for Study in India (NYSICCSI) program. Katie Barth '12, Katherine Costa '12, Beth Foster '12, Kate Harloe '12, Elsie Love '12 and Charlotte Munson '11 are part of the group, led this semester by faculty director Hamilton Associate Professor of History Lisa Trivedi and assistant director Hamilton alumnus Jack Reigeluth '07. The students traveled throughout northern India, took academic courses and conducted independent fieldwork research projects.
Anthropology major Katie Barth conducted independent research on student politics at Indian Universities. Along with her fieldwork project, she studied Hindi and took classes on Indian history and contemporary Indian society.

Katherine Costa combined her interests in anthropology and women's studies, and conducted an independent fieldwork project on the ways Indian women use language to negotiate their positions in society, particularly through terms of address and pejorative language.


Beth Foster studied the Untouchable Rights Movement at the grassroots level. Her research in India built upon the classes she has taken at Hamilton and her general interest on American grassroots social and political movements.

Kate Harloe spent the semester researching Hinduism and Hindu nationalism. She is now interviewing Indians throughout Northern India to learn more about their views on religious practice, definitions of secularization, and the connection between religious national identities.

Elsie Love conducted independent fieldwork on modes of arranging marriage in modern Indian society. Her project focuses on the different roles that young adults and their parents play in arranging a marriage. She is looking at the varying degree of autonomy young adults have in choosing their future match, and how this is related to other variables such as education, economic class and gender. Love is a double major in Asian studies and government.

Anthropology major Charlotte Munson conducted her independent field project on the promotion and perception of organic food and farming in India. Munson examined ways in which Indians are reviving traditional practices through the organic movement. Her research focused on patterns of globalization, especially ways in which the promoters of sustainable agricultural practices seek to empower poor, rural women while marketing their products of Westernized female consumers. She hopes to extend her research, through her senior thesis, by comparing her findings from India to the treatment of cultural landscapes in central New York.

NYSICCSI was founded in 1989. Four colleges - Colgate University, Hamilton College, Hobart and William Smith Colleges and St. Lawrence University - form the Consortium. NYSICCSI offers a rich and rigorous program designed to introduce college students to the great geographic and cultural diversity of northern India.

The program is managed by a faculty director from one of the NYSICCSI colleges, who accompanies the students in India. The faculty director oversees the curriculum, including the content and staffing of the courses taught by Indian nationals.