Three wins for men's track & field in Hamilton Invitational
---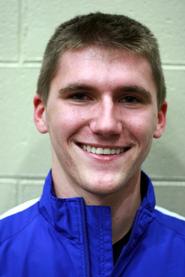 The men's indoor track & field team hosted the non-scoring, multi-divisional 2014 Hamilton College Continental Invitational at Margaret Bundy Scott Field House on Saturday.

Results

Hamilton athletes won three events and posted 10 top-five performances including Joe Jensen '15, who was a double winner.

Jensen placed first in the 200- and 400-meter dash with times of 22.41 and 49.77 seconds, respectively. He also took second in the 60-meter dash in 7.14 seconds and led off the fourth-place 800-meter relay. Jake London '14, Nate Somes '16 and Max Newman '16 rounded out the relay, which finished with a time of 1:34.76.

Adam Pfander '16 won the 5,000-meter run in 15:34.28 and two other Continentals landed in the top five. Harry Sullivan '16 was third in 16:01.97 and Jack Moses '16 finished fifth in 16:34.41.

Grant Whitney '17 placed second in the 400-meter dash in 2:00.83, Will Tifft '14 was third in the 35-pound weight throw with a distance of 15.11 meters (49 feet, 7 inches) and Daniel Baer '14 finished fifth in the 3,000-meter run with a time of 9:28.14.

The Continentals compete at Cornell University's Robert Kane Invitational on Saturday, Feb. 1.