Three women's soccer players honored by Liberty League
---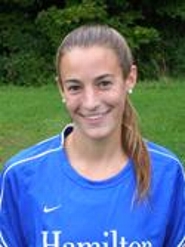 Three Hamilton College women's soccer players were honored by the Liberty League on Nov. 5 when the organization released its 2009 award winners and all-league teams.
Alex Rimmer '13 (Rye, N.Y./Rye HS) was voted rookie of the year by the league's head coaches, and made the first team at forward. Rimmer is joined on the first team by Anne Graveley '11 (Queensbury, N.Y./Queensbury HS) at forward and Kendra Wulczyn '10 (Mechanicsburg, Pa./Cumberland Valley HS) on defense.
Rimmer is tied for first in the league rankings with 25 points and tied for first with 12 goals. She also has been credited with one assist. She scored all three goals in a 3-1 win against league rival Union College on Oct. 24.
Graveley is on the first team for the first time after she was honorable mention in 2008 and a second team selection as a rookie. She is tied for sixth in the league with seven goals, and her 14 points are good for second place on the team.
Wulczyn leads a defense that has allowed an average of 0.87 goals per game and posted six shutouts. The center back has started all 64 games during her career at Hamilton.
The Continentals blanked Skidmore College 1-0 in a league tournament semifinal game on Wednesday. Hamilton plays William Smith College at William Smith in the championship game on Saturday, Nov. 7, at 11 a.m.