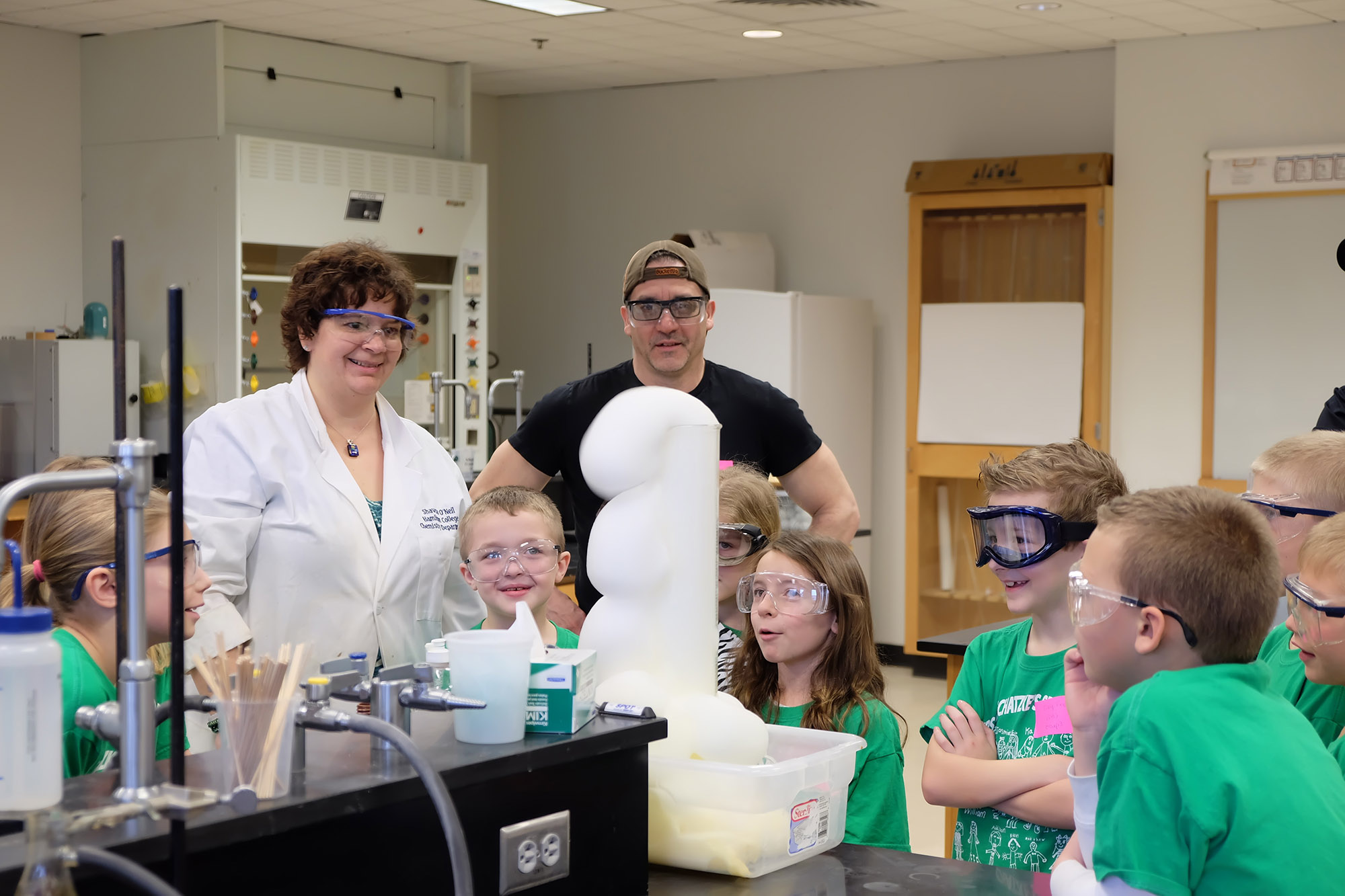 Hamilton College students are currently on spring break but that didn't prevent science faculty from mesmerizing some other willing students with exciting experiments this week.
Second grade classes from Seneca Street Elementary School in Oneida spent the morning of March 16 exploring various branches of science. Director of Laboratories Adam Lark demonstrated the physics of pressure and force as he blasted ping pong balls out of a soda bottle then reclined on a bed of nails without feeling any pain
Professor of Psychology Jennifer Borton illustrated the connection between the eyes and the brain, and showed examples of optical illusions that fool the brain.
Squeals of delight echoed through the Taylor Science Center as Director of Laboratories Shawna O'Neil '92 showed the children how to make their own slime. The second graders were enthralled as she demonstrated how gases contract and expand by freezing a balloon and immersing flowers in liquid nitrogen. Eyes grew wide as she conducted a chemical reaction that created "elephant's toothpaste," an erupting foam volcano.
The second graders had the opportunity to hold a snake, pet the scaly back and smooth stomach of an alligator and examine turtles in Professor of Biology Dave Gapp's lab. He discussed the various evolutionary adaptations of reptiles.
The students then enjoyed lunch in the Science Center's atrium before the grand finale: the eruption of a man-made volcano in the parking lot triggered by Professor of Geosciences Dave Bailey and Sciences Instrumentation Technician Bruce Wegter.
"It's a very meaningful experience," Gapp said. "And a lot of these children will remember it for a lot of years. I think we as college profs ought to be able to share our excitement of science with younger students," he added. "And, in an era where there seems to be a continuous call for increasing STEM education in the schools, it seems that this very modest program is the least we should do," Gapp remarked.
Gapp has been enlisting his science colleagues in Science Exploration Days for 25 years. New Hartford's Hughes Elementary School 3rd graders will visit Hamilton on March 23 for a similar program.
WUTR- TV covered the students' visit to Hamilton.
The Syracuse Post-Standard featured the volcanic eruption.