Track and field competes in NESCAC championships
---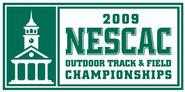 Hamilton College will compete in the 2009 New England Small College Athletic Conference track and field championships at Connecticut College's Silfen Field complex in New London, Conn., on April 25.
The meet is scheduled to start at 9 a.m. on Saturday. Four Hamilton athletes that earned all-conference honors at the 2008 championships (at Hamilton's Pritchard Track) return to compete in 2009.
Peter Kosgei '10 shared the 2008 Sebasteanski Award as the meet's Most Outstanding Male Performer. Kosgei set championship records in the 800- and 1,500-meter run with times of 1:50.62 and 3:51.41.
James Russell '09 has captured first place in the pole vault in each of the last three years. Greg Fullman '09 finished third in the 400-meter hurdles. On the women's side, Akilah Bond '09 took first place in the triple jump after she was runner-up in 2006 and 2007. The top three finishers in each event earn all-conference accolades.