Track & field athletes compete at Eastern College Athletic Conference meet
---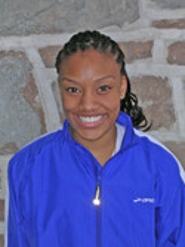 Three Hamilton College athletes competed in the Eastern College Athletic Conference Division III championships at Tufts University's Gantcher Center on March 6.
Akilah Bond '09 automatically qualified for the NCAA Division III championships with her school record-breaking triple jump mark of 11.79 meters (38-feet-8¼). The NCAA meet is at Rose-Hulman Institute of Technology in Terre Haute, Indiana, on March 13 and 14.
Bond broke her own record of 11.73 meters, which she set almost one year ago on March 7. Bond earned all-ECAC honors as she finished in fourth place.
Rebecca Yaguda '09 tied for 15th place in the pole vault as she cleared 3.10 meters (10-feet-2). Yaguda holds the program record in the event at 3.25 meters.
For the men, James Russell '09 tied for 10th place in the pole vault with a height of 4.55 meters (14-feet-11). Russell nearly broke his own school record of 4.57 meters.