Track & field athletes compete in ECAC championships
---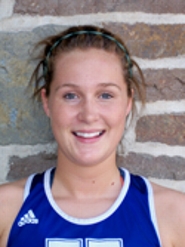 Eight Hamilton College athletes participated in the 2011 Eastern College Athletic Conference (ECAC) Division III men's and women's indoor track & field championships at the New Balance Track & Field Center at the New York City Armory on March 4 and 5.

Hamilton finished eighth in the women's 3,200-meter relay with a time of 9:41.70 on Saturday. Emily Heckman '13, Sarah Ohanesian '14, Maddy Gunter '11 and Abby King '11 made the ECAC all-conference team for their performance in the event. The top eight finishers in all individual and relay events earn all-conference honors.

Muriel Schwinn '13 was 14th of 26 athletes in the women's long jump on Saturday. Schwinn recorded a mark of 5.01 meters (16 feet, 5.25 inches). On Friday, the Continentals ended up 19th in the women's distance medley relay with a time of 12:56.44. King, Anna Heywood '13, Ohanesian and Erin West '11 were the relay members.

On the men's side, Scott Bickard '11 finished 14th of 34 runners in the 5,000 meters on Friday. Bickard's time was 15:03.58.

The season is complete for the men's and women's teams.