Track & field competes at Cortland Classic
---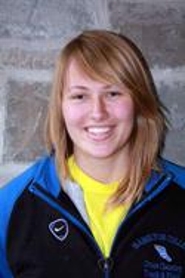 The Hamilton College men's and women's track & field teams participated in the multi-divisional, non-team scoring 2013 SUNY Cortland Classic Invitational at Cortland's Stadium Complex on April 19 and 20.

The meet included Division III nationally ranked No. 17 SUNY Oneonta on the men's side. Hamilton participates in the 2013 NESCAC Championships at Tufts University on Saturday, April 27.

Agne Jakubauskaite '13 took first place in the high jump and qualified for the 2013 Eastern Collegiate Athletic Conference (ECAC) Division III Outdoor Championships with a height of 1.58 meters (5 feet, 2.25 inches). The ECAC championships take place at Springfield College on Thursday and Friday, May 16 and 17.

Hannah Jaiven '14 nabbed second place in the pole vault at 3.35 meters (10 feet, 11.75 inches). Rachel Cackett '13 finished fourth in the 5,000-meter run with a time of 18 minutes, 47.91 seconds. Adrian Walsh '16 set a personal record in the 1,500-meter run for the second time in four days and finished eighth in 4:57.45.

For the men, Jake London '14 tied for third place in the high jump at 1.75 meters (5 feet, 8.75 inches). Matthew Peterfreund '14 claimed sixth place in the javelin throw with a distance of 42.59 meters (139 feet, 9 inches).