Track & field competes in NESCAC championship
---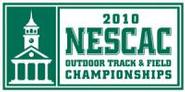 Hamilton College competes in the 2010 New England Small College Athletic Conference men's and women's outdoor track and field championship, which is hosted by Tufts University at Dussault Track/Ellis Oval in Somerville, Mass., on Saturday, April 24.
The meet is scheduled to begin at 9 a.m. with four field events and the women's 10,000-meter run. Click on the link in the opening paragraph for meet information and a championship preview.
Hamilton is led by all-conference performers Alexandra Americanos '10 and Josh Orndorff '11. Americanos earned honors in 2008 for the 100-meter dash, and Orndorff finished third in the shot put at the 2009 NESCAC championship. The top three finishers in each event at the conference meet make the all-NESCAC team.