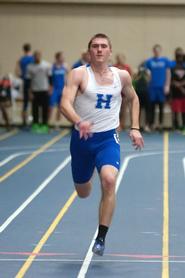 The Hamilton College track & field teams competed at the 2015 SUNY Brockport Golden Eagle Invitational on Saturday. The men took third place and the women recorded an eighth-place finish out of 14 teams.

Complete men's results | Complete women's results

On the men's side, Joe Jensen '15 led the way with three wins. His winning time in the 400-meter dash (49.13 seconds) was the fastest in Division III this winter. He won the 200-meter dash in 22.38 seconds (he set meet records in both the 200 and 400) and was first in the 60-meter dash in 7.05 seconds.

Three Continentals scored points in the 5,000-meter run, led by Harrison Sullivan '16, who won in a time of 15:38.23. David Freeman '16 placed third in 15:53.49 and Daniel Baer '15 took fifth in 16:01.17.

Christian Belardi '18 finished the 60-meter hurdles in 8.83 seconds, good for fourth place. He ran an 8.82 in the preliminaries.

In the triple jump, Preston DeLaurentis '18 finished sixth with a mark of 13.33 meters (43 feet, 9 inches) and Leonard Kilekwang '16 was eighth (12.95 meters/42 feet, 6 inches).

Kilekwang ran the leadoff leg on Hamilton's sixth-place 1,600-meter relay. Matthew McCarron '17, Samuel Pastore '18 and Jon Stanhope '18 rounded out the relay, which posted a time of 3:37.54.

Two relays posted fourth-place showings on the women's side. The 1,600-meter quartet of Hanna Jerome '18, Sam Buttrick '17, Emily Banzer '15 and Mattie Seamans '18 finished in 4:24.77.

The distance medley foursome of Abby Uehling '18, Elizabeth Perry '18, Caitlin Anthony '18 and Sam Buttrick '17 recorded a time of 13:52.32.

Lindsay Heyer '17 notched the Hamilton women's top individual performance, placing fourth in the 3,000 meter run (10:51.71). Seamans and Jerome were sixth in the 400-meter dash (1:03.17) and the mile run (5:28.76), respectively.

The Continentals host the annual Hamilton Invitational on Saturday, Jan. 31.