Track & field teams compete at Cornell
---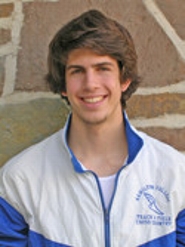 The Hamilton College men's and women's track & field teams competed in the multi-divisional, non-team scoring 2012 Cornell University Spring Invitational at Cornell's Robert J. Kane Sports Complex on April 7.

James Grebey '12 was the top Division III finisher and placed sixth overall in the men's 1,500-meter run with a time of 4:04.31. Graham Sadler '14 finished ahead of all other Division III athletes and tied for fifth place overall in the men's high jump with a height of 1.94 meters (6 feet, 4.25 inches).

Glenn Watkins '12 ended up 12th out of 46 athletes in the women's 800-meter run with a time of 2:23.59. Will Tifft '14 was 11th out of 29 athletes in the men's hammer throw with a distance of 41.63 meters (136 feet, 7 inches).

Hamilton competes in the University of Rochester Alumni Invitational on Saturday, April 14.