Track & field teams compete in 2011 NESCAC outdoor championships
---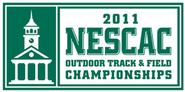 Hamilton College travels to Wesleyan University in Middletown, Conn., to compete in the 2011 New England Small College Athletic Conference men's and women's track and field championships at the K. Tucker Anderson Track complex on April 30.

The 26th annual meet is scheduled to begin at 9 a.m. on Saturday. For a meet preview, including the schedule of events, click on the link below.

Meet preview

Hamilton's men are led by Josh Orndorff '11, who made the all-conference team in 2009 for the shot put. Muriel Schwinn '13 made the women's all-conference team in 2010 for the long jump.