Track & field teams compete in 2013 NESCAC championships
---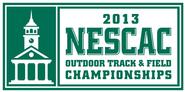 Hamilton College heads to Tufts University for the 2013 NESCAC Outdoor Track and Field Championships at Ellis Oval/Dussault Track in Somerville, Mass., on Saturday, April 27.

The 28th annual meet is scheduled to begin at 9 a.m. For a meet preview, including the schedule of events, click on the link below.

Meet preview

Hamilton's men are led by Jimmy Alexis '13, who has finished in the top six in the pole vault the past three years. Alexis' best finish at the championships was in 2011 when he placed fifth. Jake London '14 tied for seventh in the high jump in 2012 and tied for sixth in the same event in 2011. Sam Reider '14 sprinted to fifth place in the 400-meter dash in 2011.

Hannah Jaiven '14 leads the women into the weekend as she has placed in the top eight in both years at the championships. Jaiven's best finish was fifth in 2011, and she took eighth place last year. On April 13, Jaiven smashed the program record in the pole vault with a height of 3.51 meters (11 feet, 6.25 inches).