Track & field teams sweep DMR at Brockport
---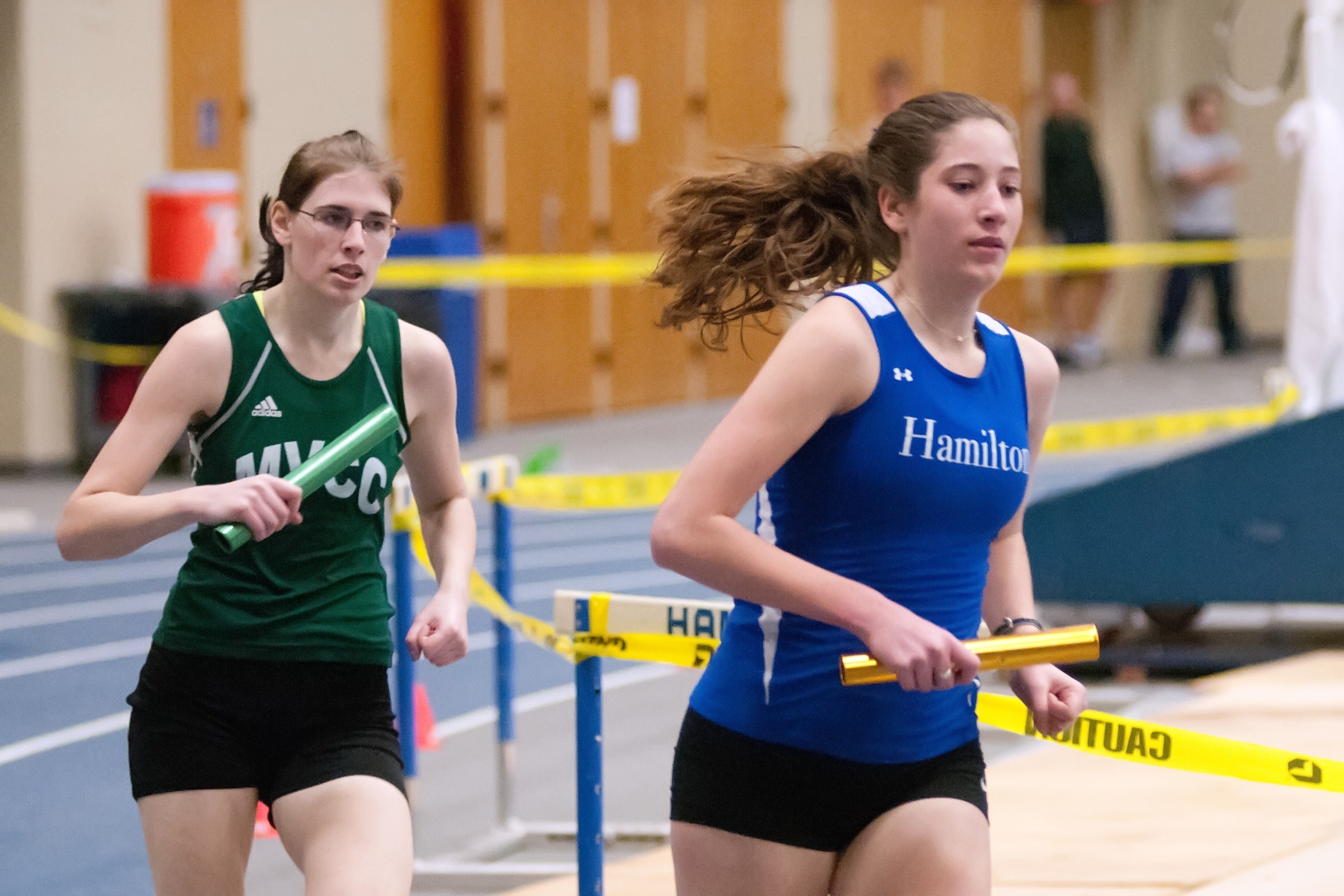 The Hamilton College Continentals competed at the non-team scoring 2014 SUNY Brockport Golden Eagle Invitational on Saturday.

Meet results

The Hamilton men and women combined for four first-place finishes, including the distance medley relays. On the women's side, the quartet of Sarah Ohanesian '14, Yuwen Michelson '17, Michelle Fish '17 and Adrian Walsh '16 posted a winning time of 12:31.87 -- the eighth-best time in Division III this season. Their performance lowered the meet record by nearly 53 seconds and met the qualifying standard for next month's Division III Eastern College Athletic Conference (ECAC) Indoor Championships.

James Bryan '16, Nate Somes '16, Grant Whitney '17 and Harry Sullivan '16 also posted a meet record and ECAC-qualifying effort. They finished in 10:39.66, lowering the meet mark by 30 seconds.

Joe Jensen '15 recorded Hamilton's other two wins. Jensen was first in the 200- and 400-meter dashes with times of 22.49 and 49.40 seconds, respectively. He set meet records and met the ECAC qualifying standard in both events. He ranks third nationally in the 400 and his 200 time was .1 second off his own school record. He missed tying his school mark in the 400 by .32 seconds. Jensen also posted the meet's top performance in the 60-meter dash, running a 7.17 in the preliminaries (.04 seconds short of his school record).

Krystina Choinski '15 took fourth in the 1,000-meter run with a season-best time of 3:06.67. Choinski also ran on one of Hamilton's two fifth-place relays, joining Ohanesian, Clare O'Grady '14 and Fish to finish the 1,600-meter relay in 4:21.28. The Continentals also took fifth in the 800-meter relay with O'Grady, Sarah Fromm '16, Kathryn Wall '16 and Fish finishing in 1:59.56.

On the men's side, Sam Reider '14 took second in the 500-meter dash with an ECAC and New York State Collegiate Track Conference (NYSCTC) qualifying performance of 1:06.81.

Daniel Baer '15 was ninth in the 5,000-meter run with a personal-best time of 16:09.10. Adam Pfander '16 ran a personal record 4:27.16 and placed 11th in the mile run.

Rounding out Hamilton's top 10 individual finishers were Leonard Kilekwang '16, who was eighth in the triple jump (12.53 meters/41 feet, 1.5 inches), and Will Tifft '14, who was ninth in the 35-pound weight throw (ECAC-qualifying mark of 14.72 meters/48 feet, 3.5 inches).

Hamilton's 800-meter relay of Charles Ensley '17, James Giattino '17, Max Newman '16 and Robert Miles '16 finished seventh in 1:38.36. The Continentals took eighth in the 1,600-meter relay with Charles Ensley '17, Jake London '14, Matthew McCarron '17 and Andrew Mandelbaum '16 finishing in 3:35.22.

Hamilton hosts an invitational at Margaret Bundy Scott Field House on Saturday, Feb. 15.