Trenkov-Wermuth '00 Co-Authors New Study
---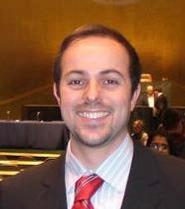 Visiting Assistant Professor of Government Calin Trenkov-Wermuth '00 is co-author of a new study, "Assessing Security Cooperation as a Preventive Tool," published by RAND in 2014 and commissioned by the United States Army. According to the authors, "the report tested the assertion that U.S. security cooperation (SC) can help reduce fragility in partner states."

The test used statistical analysis to assess SC data and state fragility scores for 107 countries in 1991–2008. After controlling for a variety of factors, the main finding was that provision of SC by the United States and a reduction in partner state fragility were correlated. The strength of correlation did not increase proportionally with additional funding; most of the effect was concentrated at the low end of SC funding. In addition, the correlation depended on recipient country characteristics.
Correlation was stronger in more democratic states and in states with stronger institutions. In especially fragile states, there was only a weak or no correlation of SC with fragility decrease. Of the types of SC provided, the correlation was strongest with education-focused SC. Foreign Military Financing, a type of SC, did not correlate with reductions in fragility."

The RAND Corporation is a nonprofit institution that helps improve policy and decision making through research and analysis.
RAND focuses on the issues that matter most such as health, education, national security, international affairs, law and business, the environment and more. With a research staff consisting of some of the world's preeminent minds, RAND has been expanding the boundaries of human knowledge for more than 60 years. As a nonpartisan organization, RAND is widely respected for operating independent of political and commercial pressures.