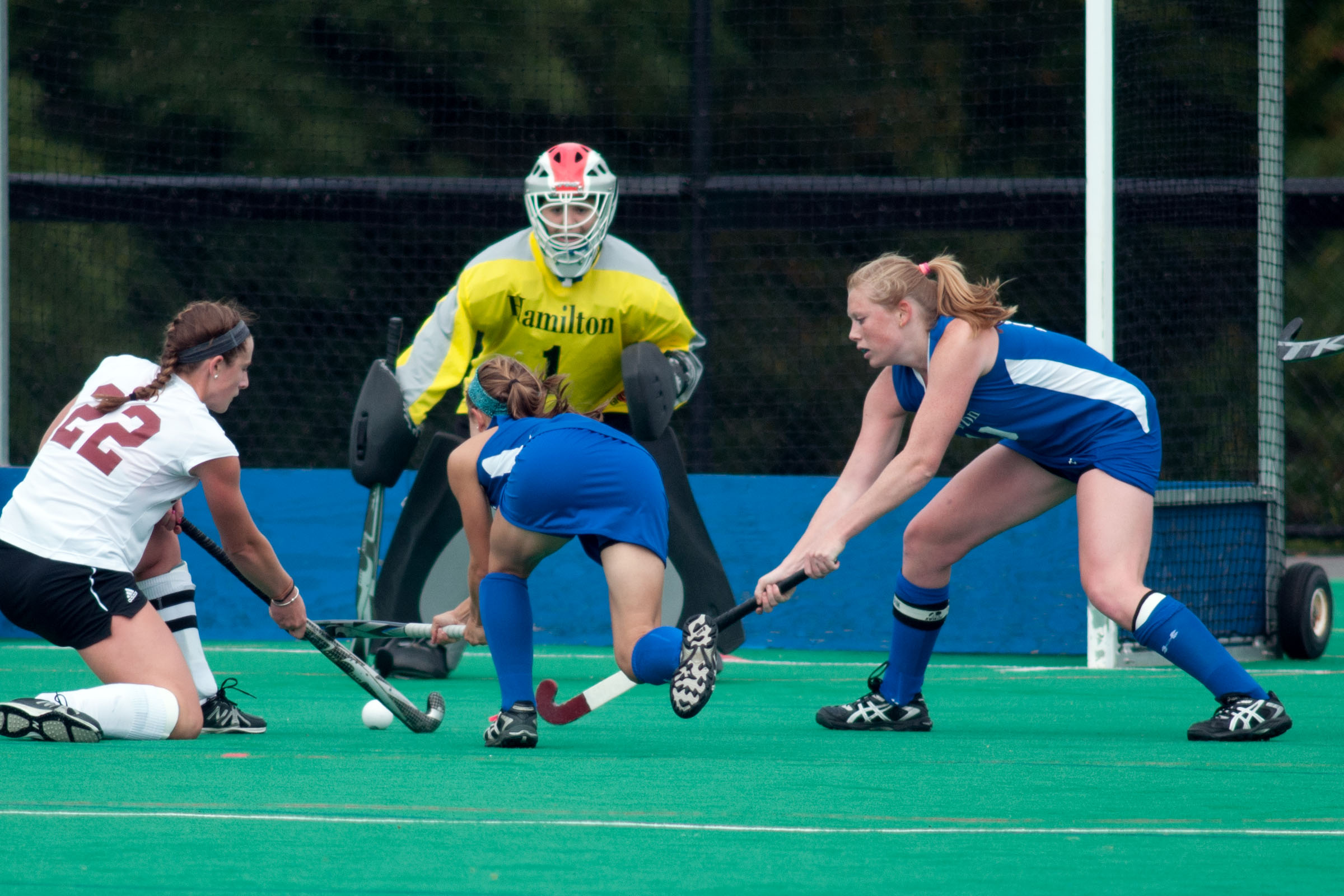 The Hamilton College field hockey team (6-5, 2-4 NESCAC) lost 6-0 to nationally ranked No. 2 Bowdoin (8-1, 5-1 NESCAC) on Saturday afternoon in a NESCAC game at Hamilton's Campus Road Athletic Field. Victoria Trentini '15 made 19 saves and became the Continentals' career leader.

Box score

This was the fifth game in the series; the defending NCAA Division III champion Polar Bears have been ranked second or third nationally in all five games.

Bowdoin outshot Hamilton 32-2 and scored three times in each half. Trentini's season-high 19 stops raised her career total to 463 in 49 games over the past four years. She eclipses Melissa Hyner '97, who recorded 459 saves between 1993 and 1996. Trentini's 19 saves marked her third-highest single-game total.

Rachel Kennedy '16 scored a pair of first-half goals and Kimmy Ganong '17 had a hand in three scores to lead the Polar Bears. Kennedy raised her season total to eight goals, putting Bowdoin on the board in the fifth minute and adding a second score 2:30 before halftime.

Ganong, who assisted on Kennedy's first goal and a goal by Kim Kahnweiler '16 midway through the first period, picked up her fourth goal of the year at the 52:00 mark. Adrienne O'Donnell '15 and Sarah Jane Weil '18 closed out the scoring with goals in the game's final five minutes.

Both teams are in action on Sunday, Oct. 12; Hamilton hosts No. 3 Middlebury at 1 p.m. and the Polar Bears play at Williams.