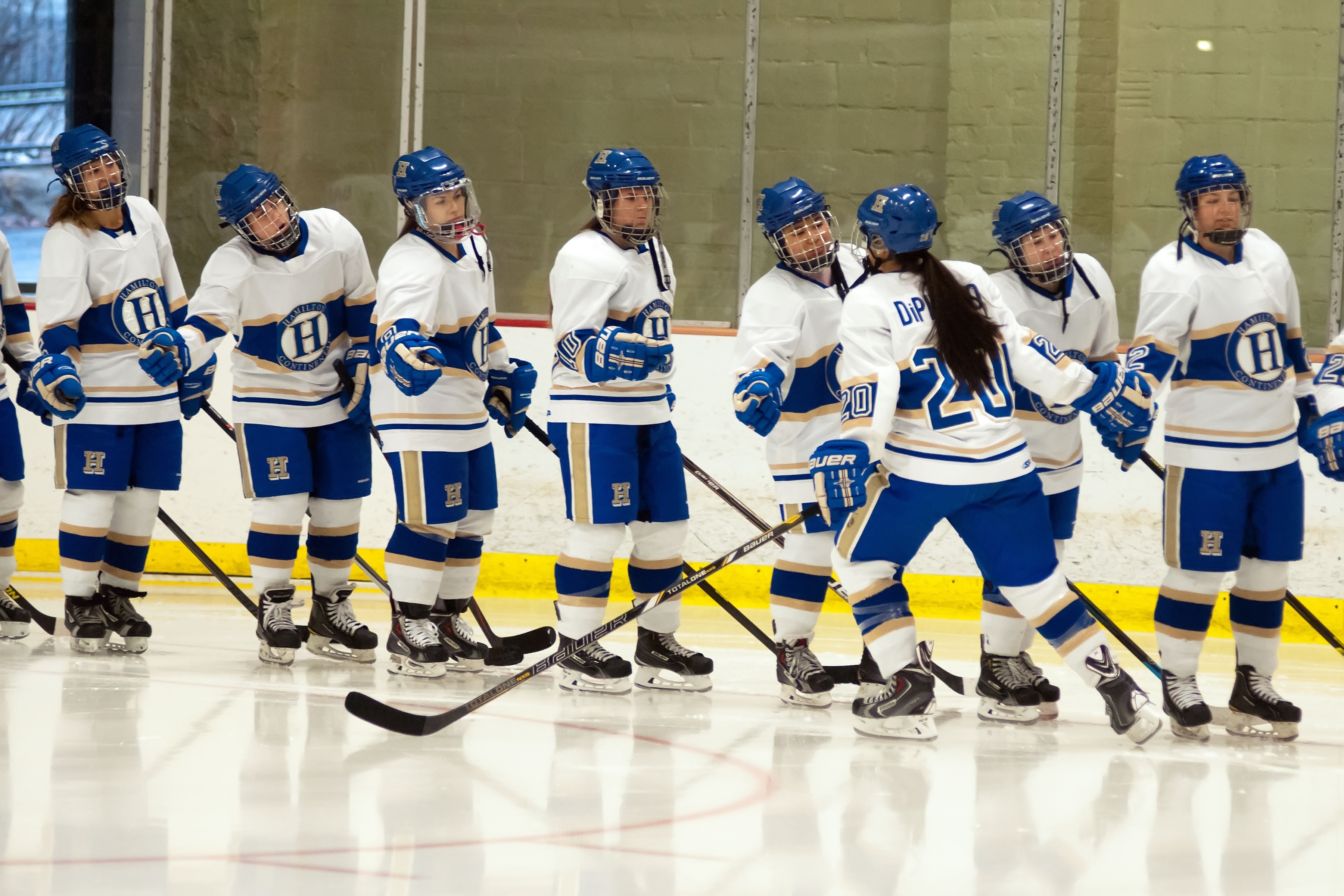 The Hamilton College women's hockey team lost 4-0 to Trinity College in NESCAC action on Saturday afternoon at Hamilton's Russell Sage Rink.

Box score
The Bantams (10-4-1, 3-4-1 NESCAC) earned a split of the weekend series, scoring three third-period goals to break open the game. The Continentals had allowed just 13 goals in their previous 11 games.

Sydney Belinskas '18 stopped all 13 shots she faced as the Bantams recorded their third shutout in five games. Lauren Fitzgerald '15 scored two goals in the third period and assisted on the other.

Hamilton's Sam Walther '18 recorded a career-high 34 saves. The Continentals (7-6-3, 1-5-2) were outshot 38-13.

Shelby Labe '16 broke the scoreless tie at 9:41 of the second period, collecting her own rebound off the boards and turning it into her first goal of the season. Labe's goal snapped Walther's shutout streak at 98:37.

Fitzgerald fed Shannon Farrell '16 on a breakaway for Trinity's second goal 5:44 into the third. Farrell scored her fourth goal of the year.

Fitzgerald scored a quick goal with 6:20 to go after Kelcie Finn '18 won a faceoff in the Hamilton end. Fitzgerald closed out the scoring with a slap shot from the right circle with 1:47 left.

The Continentals play a NESCAC series at nationally ranked No. 4 Middlebury College next weekend, starting with a 7 p.m. faceoff on Friday, Jan. 30. Trinity plays a non-conference game at St. Anselm on Tuesday.