Trinity sweeps women's volleyball
---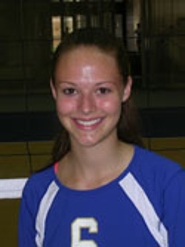 Hamilton College dropped a NESCAC match in three sets against Trinity College at Trinity's Oosting Gymnasium on Oct. 4.

Box Score

The Bantams (10-5 overall, 2-2 NESCAC) won by scores of 25-13, 25-21 and 25-11. Hamilton (3-11) remained winless in three conference matches this year.

Sarah Pfund '14 led the Continentals with 14 assists and two service aces and added 10 digs. Emily Rosen '15 had a team-high 12 digs and Anna Brown '15 contributed 10. Erin Casey '15 finished with a team-leading five kills.

Trinity posted a .330 attack percentage, including .417 in the first set on 18 kills and three errors in 36 attempts. Hamilton's attack percentage was .077 for the match.

Hamilton continues NESCAC play at Wesleyan University on Saturday, Oct. 5, at 2 p.m.