Trivedi Is Co-Editor of First Online Issue of ASIANetwork Exchange
---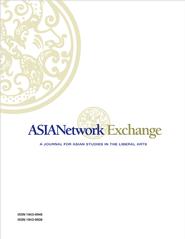 Associate Professor of History Lisa Trivedi, and St. Lawrence University Professor of Philosophy Erin McCarthy, co-editors of ASIANetwork Exchange: a Journal of Asian Studies in the Liberal Arts, have published their first online issue of the journal.
Trivedi and McCarthy have made significant changes to the flagship publication of ASIANetwork, a consortium of 165 liberal arts colleges with Asian Studies programs. Readers may download individual articles through the journal's website.
Perhaps the most important change to the journal is that Trivedi and McCarthy opted to publish through the Public Knowledge Project's Open Journal System which is an outgrowth of the broader Open Access Initiative.
The Open Access Initiative maintains that scientific and scholarly research should be freely available "on the publicInternet, permitting any users to read, download, copy, distribute, print, search, or link to the full texts of these articles, crawl them for indexing, pass them as data to software, or use them for any other lawful purpose, without financial, legal, or technical barriers other than those inseparable from gaining access to the Internet itself. The only constraint on reproduction and distribution, and the only role for copyright in this domain, should be to give authors control over the integrity of their work and the right to be properly acknowledged and cited." [Budapest Open Access Initiative, 2002 http://www.soros.org/openaccess]
Trivedi and McCarthy believe that the new digital format will make the journal accessible not only to the members of ASIANetwork and their students, but also to scholars and students in Asia where resources for library journal subscriptions may be more limited.
The ASIANetwork Exchange is a blind peer-reviewed publication, catering primarily to faculty appointed in liberal arts institutions with programs in Asian Studies. The ASIANetwork Exchange seeks to publish current research, as well as high-quality pedagogical essays written by specialists and non-specialists alike. It is particularly focused on publishing articles that are suitable for incorporation in the undergraduate classroom.