Twenty-seven Seniors Elected to Phi Beta Kappa
---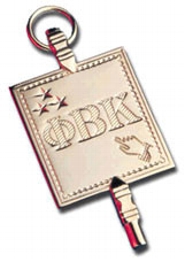 Twenty-seven Hamilton College seniors were elected to the Epsilon chapter of Phi Beta Kappa, the nation's oldest honor society, on May 23.

The inductees are Deandra Aversa, Jeffrey Blackburn, Andrea Blood, Shelagh Browne, Yifei Chen, Aaron Danilack, Ayebea Darko, Mihai Dohotaru, Elly Field, Rachel Friedman, Emma Geduldig, Stephanie Hudon, Carmen Montagnon, Susannah Parkin, Kayla Safran, Megan Schlosser, Elizabeth Scholz, Muriel Schwinn, Susannah Spero, Matthew Tanzi, Evan Van Tassell, Susannah Wales, Samuel Weisenthal, Adam Wenick, Hanbin Yang, Ki Young Ye, and Anna Zahm.
They join 22 other students from the Hamilton class of 2013 elected to Phi Beta Kappa, the oldest and most prestigious honor society in the country. Students are elected to membership in recognition of their exceptional academic achievement in fulfilling the goals and purposes of the college.