Twenty-six Seniors Elected to Phi Beta Kappa
---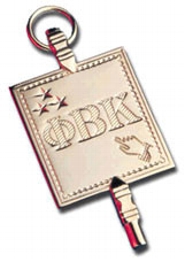 Twenty-six candidates for graduation were elected to the Epsilon chapter of Phi Beta Kappa, the nation's oldest honor society, on May 19.
The inductees are Hali A. Baumstein, Erica S. Briggs, Courtney M. Carroll, Samuel W. Cowan, Emma H. Domby, Benjamin M. Dropkin, Leigh A. Ercole, Isabelle A. Fabian, Margaret H. Frame, Jeremy R. Gleason, Daniel A. Hagemeier, Michael C. Harwick, Cassidy N. Jay, Alexandra M. Keyes, Brandon A. Kline, Edward A. Lamere, Elli C. Marcus, Katherine C. McGuire, Mary E. Phillips, Emma Racine, Sarah E. Reynolds, Anna N. Scott, Emma A. Simmons, Evan P. Taddeo, Jacobus P. Van Der Ven and Keith D. Willner.

They join 27 other students from the Hamilton class of 2011 elected to Phi Beta Kappa, the oldest and most prestigious honor society in the country. Students are elected to membership in recognition of their exceptional academic achievement in fulfilling the goals and purposes of the college.