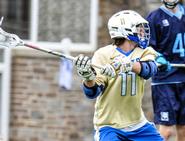 Two members of the Hamilton College men's lacrosse team have been named to the 2014 NESCAC All-Conference Team.

2014 NESCAC Men's Lacrosse All-Conference Team

Midfielder Bryan Hopper '14 (Ridgewood, N.J./Lawrenceville School) was voted to the first team and Dylan Lahey '15 (Hyannis, Mass./Barnstable HS) received second-team recognition on defense. Hopper and Lahey were both second-team picks last spring. They are the first Continentals to repeat on the all-NESCAC team since Hamilton joined the conference for men's lacrosse in 2011.

Hopper played in all but one game and made 12 starts for the 5-9 Continentals. He was the team's fourth-leading scorer with 25 points (19 goals, six assists), picked up 31 ground balls and collected four caused turnovers. Hopper recorded three-goal games against then-nationally ranked No. 12 Wesleyan University and Amherst College. In his three-year Hamilton career, Hopper scored 73 points on 54 goals and 19 assists in 41 games.

Lahey started 12 games and ranked eighth in the conference with 18 caused turnovers. His 33 ground balls ranked fourth on the team. Lahey posted season-high totals of five ground balls in a win over Keene State College and four caused turnovers against then-No. 6 Tufts. He has caused 45 turnovers and picked up 76 ground balls in 32 games in his three years at Hamilton.