Two Hamilton College athletes honored by Liberty League
---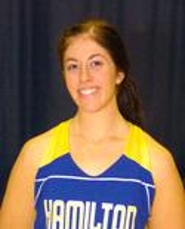 Hamilton College's Blue Sanders '13 (Los Angeles, Calif./Long Island Lutheran HS) and Muriel Schwinn '13 (Auburn, Maine/Edward Little HS) were honored by the Liberty League on Feb. 8 when the league selected its weekly award winners.
Sanders was named rookie of the week for women's basketball. It's the second time Sanders has received the award. She averaged 10 points and 4 rebounds, and shot 50 percent from the field in a 1-1 week for Hamilton. She ranks third in the league with a field goal percentage of 52.3 percent, and is ninth with 2.62 assists per game. She is third on the team with an average of 9.2 points per game.
Schwinn was honored for the fifth time this season as she was a co-rookie of the week selection for women's track and field. She set a school record and tied another as Hamilton competed in the multi-divisional, non-team scoring Syracuse University Invitational on Feb. 6. She finished third and qualified for the Eastern College Athletic Conference Division III championships in two events. She tied a team record in the 55-meter dash with a time of 7.50 seconds, and set a record in the long jump with a mark of 17 feet, 6 ¾ inches.