Two Hamilton Teams to Compete in Annual Adirondack Canoe Classic
---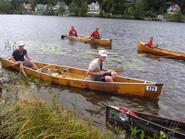 Two Hamilton teams will compete in The Adirondack Canoe Classic, also known as "The 90-miler" this weekend, Sept. 10-12. The race is paddled over three days, starting from Old Forge and finishing in Prescott Park in Saranac Lake, and is billed as the biggest race of the year in New York State.

The crew in one Hamilton boat is Christine Roback '12 (captain), Nick Costantino '12, Andrew Pape '11 and Sarah Gamble '13. The second Hamilton crew is comprised of Ryn Steck '12 Peter Lauro '12, Adam Kelsey '13 and Kate Bennert '12 (captain).

Also entered in a four person canoe are Cassidy Jay '11 and Jeff Seymour '09. Andrew Jillings, Hamilton's director of outdoor programming, will be paddling in a two person canoe with Mike Archambault from Montreal. They won their category last year so are moving up to the top flight this time.

According to its website, "The Adirondack Canoe Classic, 'The 90-Miler,' was conceived in 1983 by a small group of people in Saranac Lake looking for an event that would celebrate the historical mode of transportation in the region: human-powered boats. The inaugural planning meeting emphasized the concept of 'community' – the paddlers, volunteers and followers, the people in the towns and villages connected by the waterways, and the businesses supported by the people coming to explore the waterways."

The race has 250 boats and about 800 competitors, Jillings said. "Most are just trying to finish, some are national level racers, but everyone gets along," he observed. "Each boat has a 'pit crew,' just like in NASCAR only less helmets and sponsors. Pit crews provide food, water and encouragement as the teams run between lakes (called 'carries' in the Adirondacks and 'portages' everywhere else)," Jillings explained.

The three-day itinerary begins with paddling from Old Forge to Blue Mountain Lake, 35 miles with many carries. Day two is from near Long Lake to near Tupper Lake (30 miles); one carry. The last day goes the length of the Saranac Lakes (Upper, Middle and Lower, finishing on Lake Flower in the town of Saranac Lake), 25 miles with three carries.

The Hamilton College Marathon Canoe Racing Team will participate in the second New York State Collegiate Canoe Championships in Long Lake on September 25. Last year the team took second place, finishing behind Paul Smith's.