Two women's basketball players honored by Liberty League
---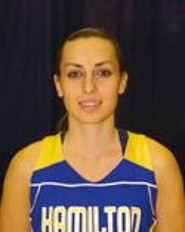 Hamilton College women's basketball players Reisa Asimovic '11 (Sarajevo, Bosnia & Herzegovina/Treca Gimnazija) and Eliza Howe '13 (Westport, Conn./Staples HS) were honored by the Liberty League on Dec. 14 when the league selected its weekly award winners.
Asimovic was a co-guard of the week pick for the first time this season. The 5-foot-6 point guard averaged 14.5 points, 5.5 rebounds and 4.0 assists in a 1-1 week for Hamilton. She was 12-for-15 (80 percent) from the field and made 5 of 7 shots at the free-throw line. She ranks 12th in the league with 11.2 points per game, first in field goal percentage at 71.4 percent, first with 5.12 assists per game and is tied for first in free-throw percentage at 87 percent.
Howe was named rookie of the week for the first time, and she is the third Hamilton player to receive the award this season. She averaged 10.5 points and 5.5 rebounds in a 1-1 week for Hamilton. She shot 50 percent from the field, including 3-for-7 from 3-point range, and made all four of her free-throw attempts. She scored a season-high 12 points in a win against Elmira College on Dec. 8. The 5-10 forward ranks ninth in the league in 3-point field goal percentage at 32 percent and is tied for 10th with 1.00 3-point field goal made per game.
The Continentals (6-2 overall) are off until Saturday, Jan. 9, when they host William Smith College in the league opener for both teams at 1 p.m.