Two women's lacrosse players honored by league
---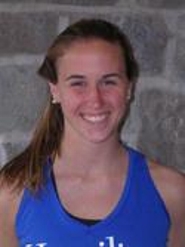 Hamilton College women's lacrosse players Meg Pengue '12 (Fairfield, Conn./Fairfield Warde HS) and Rachel Friedman '13 (Fairfield, Conn./Fairfield Warde HS) were honored by the Liberty League on May 3 when the league selected its weekly award winners.
Pengue was named defensive performer of the week for the second time this year. She scored her first goal of the season, picked up four ground balls and caused five turnovers in wins against Skidmore College and Union College on April 30 and May 1, respectively.
Friedman was a co-rookie of the week pick for the fourth time. She recorded three goals, three ground balls, five draw controls and four caused turnovers as nationally ranked No. 1 Hamilton improved its record to 16-0 overall, 8-0 in the league.
The Continentals host the 2010 Liberty League Championship on Friday and Saturday, May 7 and 8. Hamilton plays Rensselaer in one semifinal at 2:30 p.m. on Friday. The championship game is at Hamilton's Steuben Field on Saturday.