Tyler Roberts '12 Included in WSJ Article About Law School Scholarships
---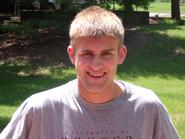 Tyler Roberts '12 was interviewed for a Wall Street Journal article "More Law Schools Haggle on Scholarships" (7/29/12). The piece describes how as the number of law school applicants has declined, some schools are negotiating scholarships and bargaining with prospective students while other schools don't need to.

The article noted, "Tyler Roberts, a 2012 Hamilton College graduate, said he tried to leverage an $81,000 scholarship offer from Duke University School of Law into a scholarship offer from Columbia University's law school. According to Mr. Roberts, Columbia said no."

Roberts will attend Columbia University Law School in the fall.