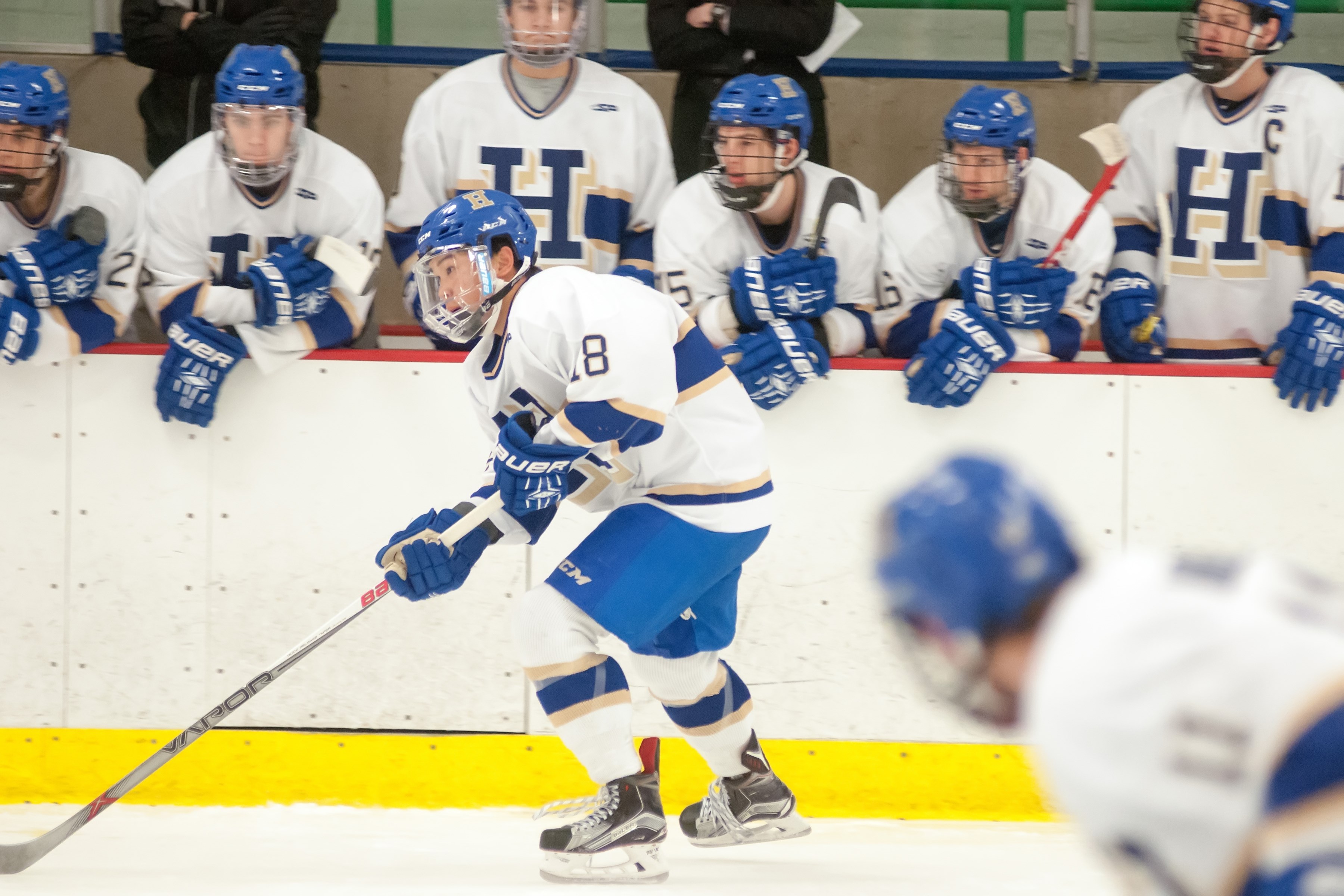 The Hamilton men's hockey team matched the program's best start in 30 years, beating host Bowdoin 4-2 Saturday in Brunswick, Maine. The Continentals stretched their unbeaten streak to seven games; with an 8-3-1 overall record, they have more wins than any other NESCAC team.

Box Score

Hamilton scored the game's last three goals, rallying from a pair of one-goal deficits.

Robbie Murden '17 scored twice -- tying the score with both his goals -- and Neil Conway '18 had a hand in three goals, helping the Continentals maintain Division III's fourth-longest current unbeaten streak.

After the host Polar Bears (4-6-2, 2-4-2 NESCAC) took a 1-0 lead midway through the opening period and kept the Continentals (8-3-1, 4-2-1) scoreless for more than 32 minutes, Murden kick-started the Hamilton rally with 7:27 left in the second period.

He scored his team-leading third power-play goal to tie the score at 1-1 off assists from Conway and Brandon Willett '18. Bowdoin needed just 1:28 to go back in front, retaking the lead on a rare power-play goal -- just the third Hamilton's yielded in 12 games -- but Conway set up Murden for another goal late in the period. Willett, the third member of the line, also picked up an assist on the play.

A hooking infraction against the hosts gave the Continentals their fifth power-play chance just under halfway through the third period and they needed just five seconds to turn the opportunity into their first lead. Tyler Bruneteau '18 notched the goal with Conor Lamberti '17 and Scott Vazquez '16 assisting.

Bennett Hambrook '17 fed Conway for an empty-net goal in the final minute to provide the final margin.

Evan Buitenhuis '18 made 23 saves to pick up his eighth win. He ranks third nationally with a .959 save percentage and fourth with a 1.42 goals-against average.

Bowdoin's Peter Cronin stopped 30 shots, including an 18-save second period. Chris Wallace gave the Polar Bears their second lead, putting a power-play shot in the net off assists by Spencer Antunez and Matthew Lison. Antunez and Wallace assisted on Mitch Barrington's first period goal.

Hamilton continues with NESCAC road action Saturday, opening a conference weekend with a 7 p.m. game at Connecticut College.