University of Chicago Hinduism Expert to Present Hansmann Lecture
---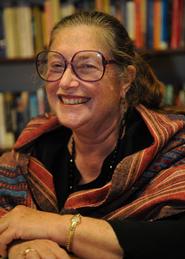 Wendy Doniger, the Mircea Eliade Distinguished Service Professor of the History of Religions at the University of Chicago's Divinity School, will present the Hansmann Lecture titled "The Political Framework of Gender in the Kamasutra," on Monday, March 4, at 4:10 p.m., in the Taylor Science Center's Kennedy Auditorium. The Hansmann Lecture is part of Hamilton's Humanities Forum and is free and open to the public.
Doniger also holds positions in the Department of South Asian Languages and Civilizations and the Committee on Social Thought at Chicago. She received Ph.Ds. from Harvard University and Oxford University. Her research and teaching focus on translating, interpreting and comparing elements of Hinduism through modern contexts of gender, sexuality and identity. Her studies in mythology address themes in cross-cultural expanses, such as death, dreams, evil, horses, sex and women; her research in Hinduism covers a broad spectrum that, in addition to mythology, considers literature, law, gender and zoology.
Doniger has written more than 30 books in her career, and many have met critical acclaim. Her most recent works include The Hindus: An Alternative History and The Implied Spider: Politics and Theology in Myth. In progress are Hinduism, for the Norton Anthology of World Religions (2013); Faking It: Narratives of Circular Jewelry and Clever Women; and a novel, Horses for Lovers, Dogs for Husbands.
The Humanities Forum is a series of lectures, galleries and activities that engage participants in a specific domain of the humanities. The theme for the 2011-2013 Forum is "The Problems and Promises of Translation." The Forum explores differences across various languages, cultures, times and artistic mediums—and how our translation, our bridging of these discrepancies, leads to social transformation.