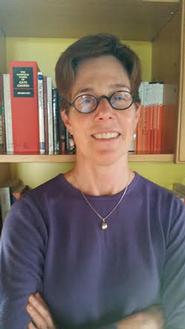 Catherine Gunther Kodat, former professor of English and American studies at Hamilton and current acting provost and dean of the Division of Liberal Arts at the University of the Arts in Philadelphia, will present a lecture on Tuesday, Feb. 17, at 4:10 p.m., in Room 3024 of the Taylor Science Center. Her lecture is titled "Modernist Dance and the Metapolitics of Cold War Culture," and it is free and open to the public.

Kodat's essays on 20th century literature and culture have appeared in journals such as Representations, American Quarterly and Mosaic. She is also a former dance critic for The Baltimore Sun.

Kodat was a member of Hamilton's faculty from 1995 to 2012, where she served most recently as director of its program in American Studies. From 2005 to 2010, she was chair of Hamilton's English and Creative Writing Department.

An inaugural recipient of a Millicent C. McIntosh Flexible Fellowship from the Woodrow Wilson National Fellowship Foundation, Kodat has been a research fellow at the Rothermere American Institute at the University of Oxford and Fulbright lecturer in American studies at Eötvös Loránd Tudományegyetem (ELTE) in Budapest. She is completing a book about the uses of culture during the Cold War.

The lecture is sponsored by the Dean of Faculty office.