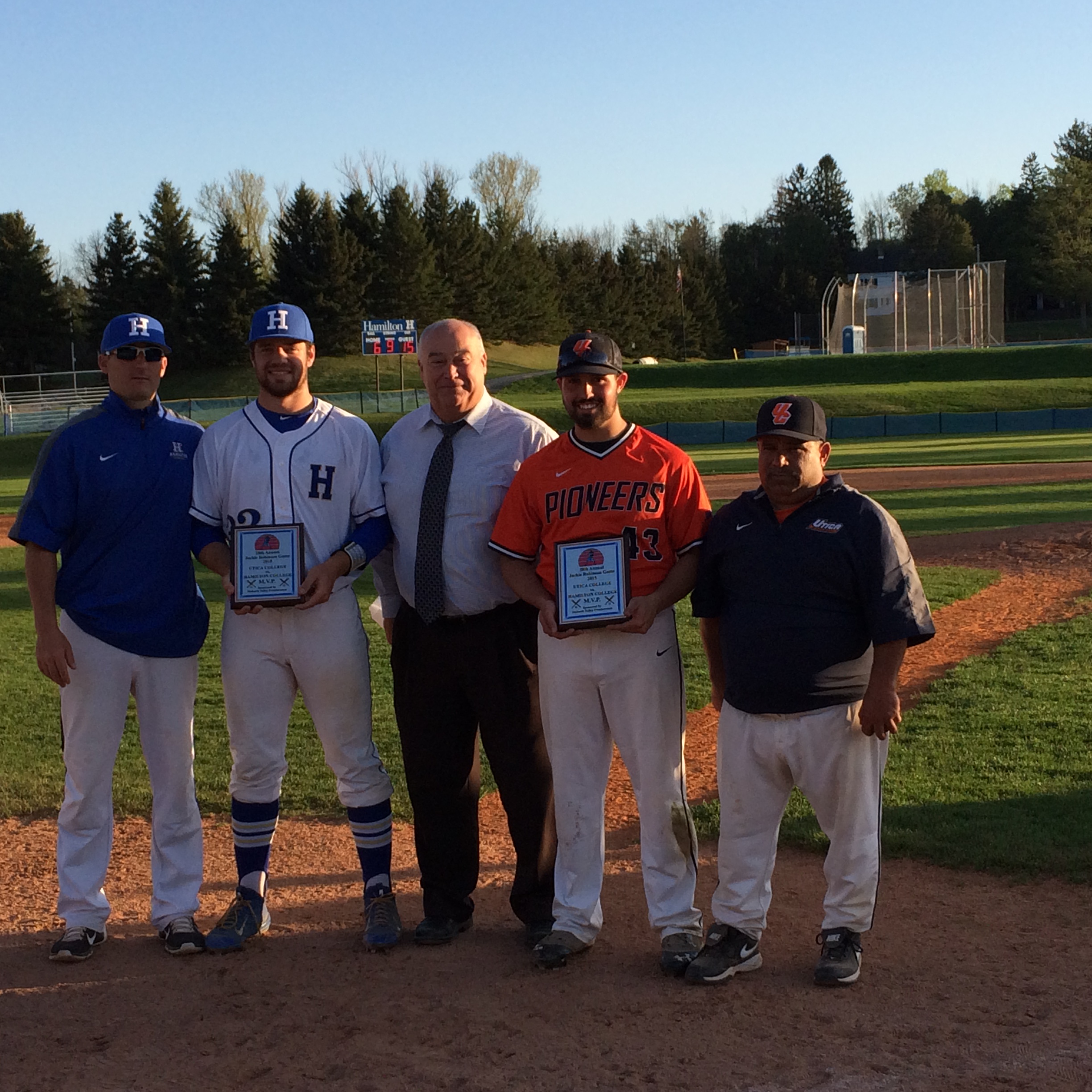 The Hamilton College baseball team concluded its season on Wednesday, hosting Utica College in the 28th playing of the Jackie Robinson Game at Royce Field. The visiting Pioneers posted a 15-6 win, giving them a 16-12 lead in the series.

Box score

The game has been scheduled between the Continentals and Pioneers each year since 1987, when it was inaugurated to commemorate the 40th anniversary of Robinson breaking major league baseball's color line. The teams did not play in 2007 due to weather.

The Pioneers (20-13-1 overall) pounded out 20 hits to record their first win in Clinton since 2006. Jake Ryan '18 led Utica with five hits.

Both starting left fielders were named Player of the Game for their teams: Hamilton's Ryan Wolfsberg '17 went three-for-four with a pair of runs batted in and Utica's Brandon Thomas '16 finished three-for-five while driving in three runs.

Adam Pexton '16 and Ryan Watson '15 also contributed three hits for Utica.

The Pioneers broke open a tie game with 12 runs over the fifth, sixth and seventh innings. They took the lead just two batters into the game after Benjamin Hobaica '15 singled home Ryan, who had led off the game with a single and moved to second on a failed pickoff attempt.

Hamilton (16-14) tied the game in the third inning when Zack Becker '16 led off with his third career home run, giving him hits in eight straight at-bats.

Utica used 12 hits and two walks to score 12 times over the middle innings and put the game out of reach. The Pioneers took advantage of a pair of errors and two Hamilton wild pitches.

Watson singled home two runs in the fifth to break the tie then scored on a single by Thomas. An inning later, the first four Pioneers reached base, capped by a two-run single by Hobaica, who came around to score on a wild pitch.

Thomas' two-run double closed out Utica's five-run seventh after Pexton and Ryan collected run-scoring hits and Daniel Priore '15 scored on a wild pitch.

The Continentals, who tied a school record with 16 wins, scored three times in the seventh after pushing across single runs in both the fifth and sixth innings. Andrew Haser '17 had the big hit in the seventh, a two-run home run to center field. He and Wolfsberg finished the season tied for the team lead with four homers apiece. Wolfsberg hit a sacrifice fly in the fifth and Tyler Reinhold '15 singled in a run an inning later.

Wolfsberg also drove in a run in the seventh, doubling to left to bring in Joe Jensen '15. Jensen's run was the 90th of his career, breaking the school record held by Sam Choate '12. Jensen also finished with school-record totals of 135 hits, 78 stolen bases and six triples in his career.

Jensen, Becker and Kenny Collins '17 had two hits each.

Josh Luczak '16 earned the win on the mound, going 6.2 innings to improve to 3-1 on the year. Ethan Bliss '17 closed out the game for Utica, allowing three hits in 2.1 innings of scoreless relief.

The Pioneers host the inaugural Empire 8 Championship Tournament at Murnane Field this weekend.