Video Game Designer, Author Ian Bogost to Deliver Tolles Lecture
---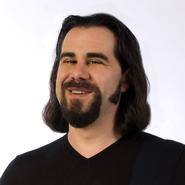 Scholar, author and game designer Ian Bogost will deliver the Winton Tolles Lecture titled "Living with Things," on Thursday, April 18, at 7:30 p.m., in the Chapel. His lecture is free and open to the public.
Bogost is the Ivan Allen College Distinguished Chair in Media Studies and professor of interactive computing at the Georgia Institute of Technology, and founding partner at Persuasive Games LLC. As an author, he writes about video games as a medium with many uses. As a game designer, he makes games for political, social, educational and artistic uses.
He is author or co-author of seven books including Unit Operations, Persuasive Games, Racing the Beam, How To Do Things with Videogames and the forthcoming 10 PRINT CHR$(205.5+RND(1)); : GOTO 10. Bogost's video games cover topics as varied as airport security, disaffected workers, the petroleum industry, suburban errands and tort reform. His game A Slow Year, a collection of game poems for Atari, won the Vanguard and Virtuoso awards at the 2010 Indiecade Festival.
At Hamilton, Bogost will explore the term "things." He points out that when we talk about "things," we usually mean ideas or concepts or abstractions, rather than physical objects. Bogost finds it striking that a word that we'd first associate with matter so quickly becomes one of matters, of affairs, incidents, penchants, circumstances, activities and notions. Bogost will explore how we, as humans, view the world around us as a pattern of things, events and thoughts. He asks, "How can we learn to live with things, where things mean stuff rather than ideas and events? How do we approach a world so replete, so overburdened with stuff that it's literally falling apart from the wear?"
This year's Hamilton first-year common experience centered around the theme "Know thy Stuff: The Meaning of Objects in our Lives." Every first-year student was sent the book, Evocative Objects: Things We Think With, edited by Sherry Turkle.
The Tolles Lecture was established in 1991 by members of the class of 1951 in memory of Winton Tolles, class of 1928 and dean of the college from 1947 to 1972. It brings to the campus distinguished writers in the fields of literature, journalism and theater to lecture and meet with students.