Women's volleyball falls short in close match
---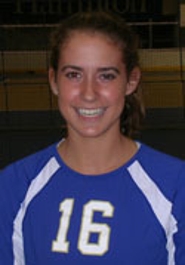 Hamilton College women's volleyball was defeated by SUNYIT 3-2 (25-17, 21-25, 25-21, 22-25, 6-15) at the Campus Center Gymnasium Sep. 14.
Hamilton (4-3 overall) built a 14-7 lead in game one before going on to win 25-17. Game two was much closer, as the lead continuously changed hands early on before being tied at 13 all. The Wildcats (4-3) lead 19-15 before Hamilton scored five straight points to pick up the set 21-20.

Hamilton was in control for most of game three, winning the set 25-21 to lead 2 -1. The Wildcats tied the match by winning the fourth set 25-22. Leading the two teams tied going into the fifth set that the Wildcats won 15-6, giving them the win 4-3.

The Continentals had a total of 59 kills, Megan McCareins '14 added 17, along with 12 for Meredith Nuber '14 and 13 for Brenna Corrigan '14. The team assists were lead by Cecelie Pikus '13 with 23 and Sarah Pfund '14 with 25.