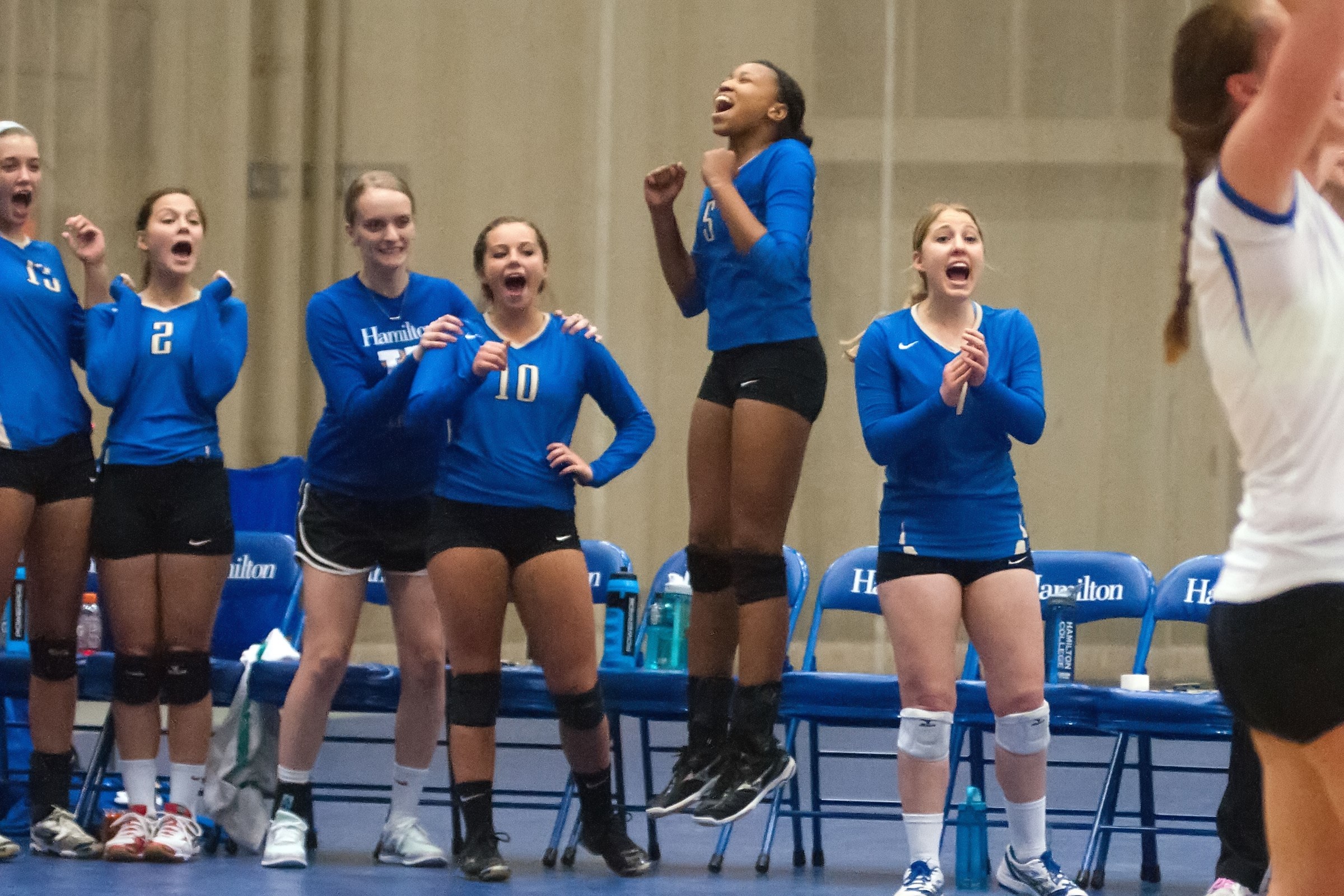 The Hamilton College volleyball team dropped the first set to host Utica College then bounced back to win the next three in a non-conference win over the Pioneers at Clark Athletic Center on Wednesday night.

Box score
The Continentals lost the opener 26-24 then won three in a row (25-19, 25-21, 25-19) to raise their season record to 12-7. Utica lost its fourth straight to drop to 8-16.

Margaret O'Brien '18 led Hamilton with 11 kills – one short of her career best – and a personal-high seven blocks. She had five kills in as many attempts in the Continentals' second-set win that jump-started their comeback. Hamilton trailed 4-0 and 6-1 in the set before fighting back to tie the score on five straight points served by Jessica Weston '17. O'Brien and Ivanka Temnycky '17 both had three blocks during the spurt. Temnycky finished with a career-best four blocks.

The Continentals trailed in the third set 21-20 before tying the score when setter Kyndal Burdin '18 dinked a set over the net. Anna Brown '15 served out the set with Weston providing the decisive point with one of her six kills.

The Pioneers jumped out to a 4-0 lead in the fourth set (they led 4-0 in three of the four sets) and extended their lead to 8-2 before Brown served six straight points (including three of her career-best six service aces) to give Hamilton a 12-9 lead. The Continentals pushed their advantage to 21-14 but Utica responded with five consecutive points to close to 21-19. Another Burdin dink over the net gave the serve back to Hamilton and Weston closed out the victory with four points.

Burdin finished with 36 assists, 14 digs and three blocks. Her five kills matched a season best. Courtney Brown '18 and Emma Lonadier '15 added 10 kills apiece. Christine Zizzi '18 collected a season-best 23 digs and Jamie Granskie '16 added 14.

Utica, which has lost 22 of 26 matches against Hamilton dating back to 1994, fought off a set point by the Continentals in the first set. The Pioneers took a 23-19 lead before Burdin served five points in a row to put the visitors up 24-23. Three of Hamilton's points were scored on service aces by Burdin.

Laura Homer-Gunther '16 led Utica with nine kills. Briona Enny '18 and Alaina Wickwire '15 had 24 and 10 digs, respectively. Lora Allen '16 finished with 26 assists and seven digs, and Brandi Blaszak '17 contributed four solo blocks.

The Continentals return to NESCAC play on Friday, Oct. 17, with an 8 p.m. match at Wesleyan.