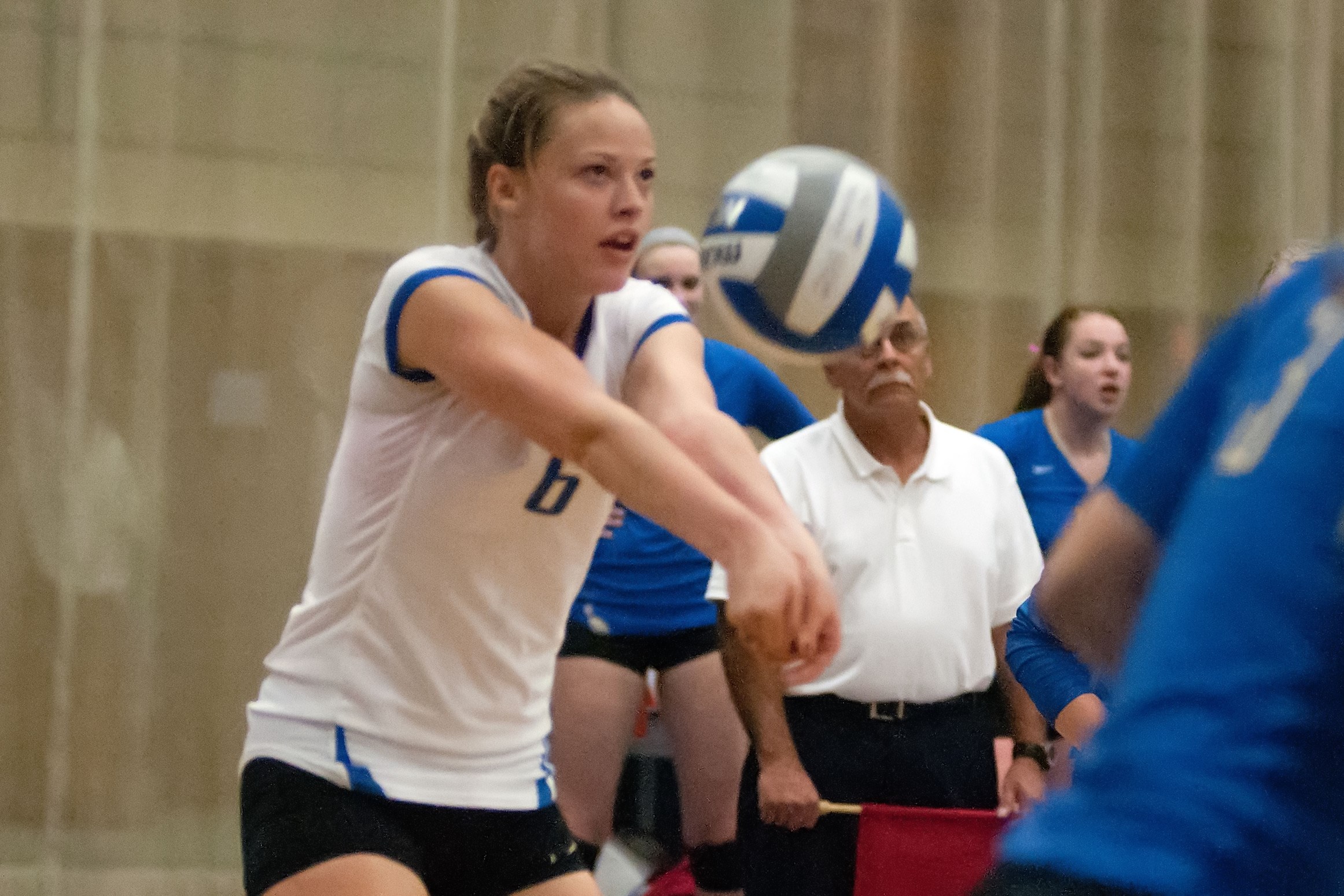 The Hamilton College volleyball team continued its strong start, opening NESCAC play with a 3-1 win over visiting Bates on Friday night at Margaret Bundy Scott Field House.

Box score
The Continentals, who improved to 7-3 with the win, dropped the first set 25-22 before bouncing back with three straight wins (25-22, 25-22, 25-13) in the NESCAC opener for both teams. They are off to their best start since the 2011 team won seven of its first nine matches. The win was Hamilton's fourth straight over Bates.

Hamilton hit .310 for the match (with a season-best 59 kills and only 15 errors in 142 attempts) and was led by Erin Casey '15, who collected a career-high 15 kills. Her .542 hitting percentage was the Continentals' second-best single-match performance in a conference match since joining the NESCAC; their team percentage of .310 was the program's highest ever in a NESCAC match.

Casey notched the winning point in the second set and Erin Donahue '18 did the honors in the third set as Hamilton held off late Bobcat rallies both times. The Continentals were up 24-20 in each set before Bates staved off elimination and closed to two points, setting up the winning kills by Casey and Donahue. Hamilton scored the first five points of the fourth set and extended its lead to 20-8 before clinching the victory on a service ace by Emily Rosen '15.

Donahue matched a season high with 11 kills and Jessica Weston '17 added 10. Both hit .400 for the match with Weston adding three aces.

Kyndal Burdin '18 dished out 39 assists for Hamilton and added 12 digs. Anna Brown '15 led the Continentals with 19 digs, raising her career total to 1,355 (she's second on the program's all-time list) and Jamie Granskie '16 had 13.

Chandler McGrath '17 led the Bobcats, who dropped their fourth straight match, with 10 kills and Brynn Wendel added nine. Tess Walther '15 and Jacqueline Forney '18 finished with 14 and 11 assists, respectively. Walther also led Bates (5-4) with 12 digs and Laryssa Schepel '16 contributed 11.

The Continentals host SUNY Polytechnic (formerly SUNY Institute of Technology) on Tuesday at 6 p.m. The Bobcats continue their NESCAC road trip with a Saturday afternoon match at Middlebury.