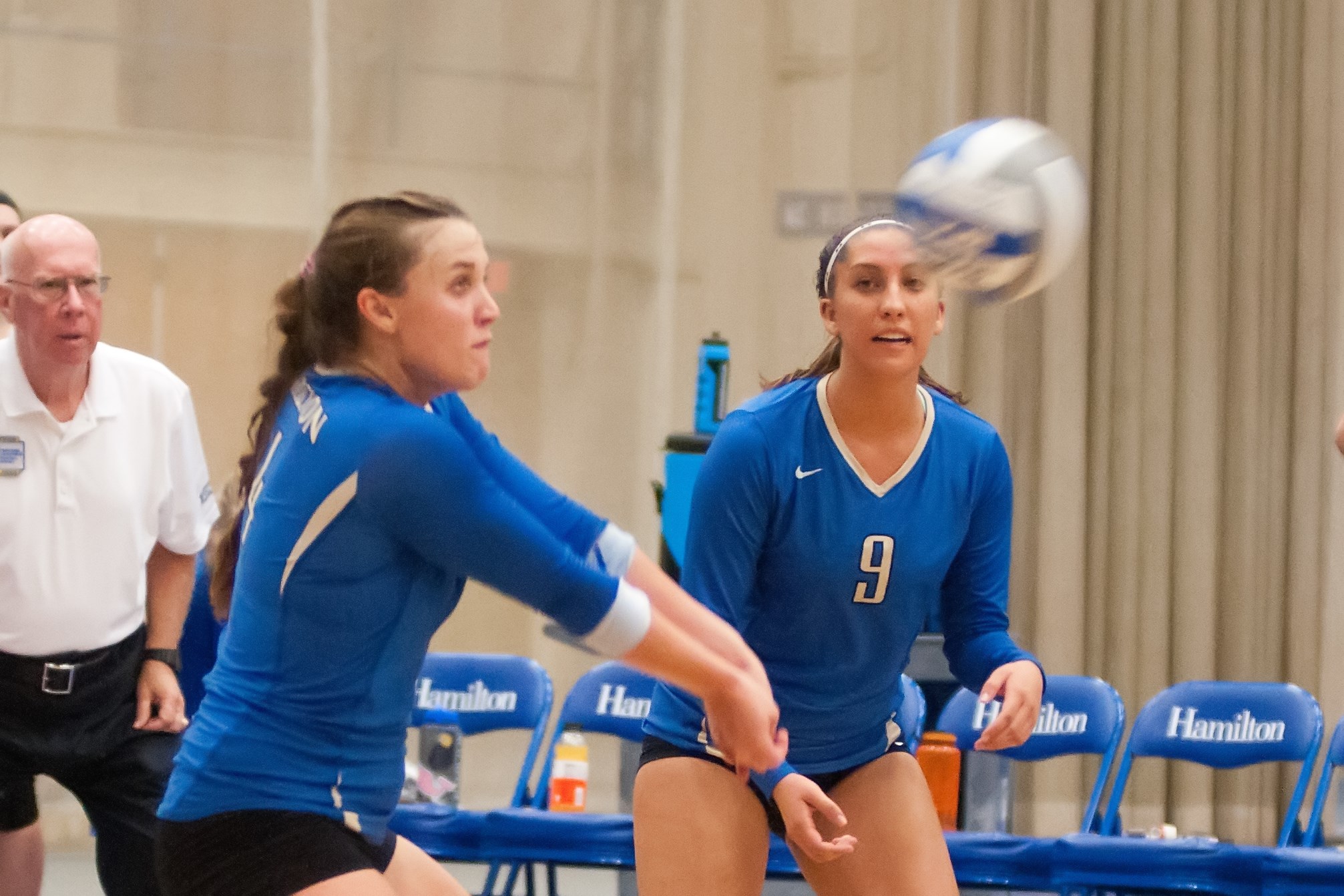 The Hamilton College volleyball team dropped a 3-1 decision to visiting Middlebury in a NESCAC match Friday night at Margaret Bundy Scott Field House.

Box score
The contest, which wrapped up a three-match home stand for the Continentals (1-7, 0-2 NESCAC) was delayed 90 minutes because of Middlebury travel issues. The Panthers dropped the first set 25-21 then took three straight (25-16, 25-20, 25-15).

Hamilton rallied from a pair of deficits in the opening set to take the 1-0 lead. Middlebury (7-2, 1-1) took an 8-4 lead before the hosts tied the score, then opened up a 18-13 advantage; the Continentals scored eight of the next nine points behind the service of Erin Donahue '18 on their way to the win.

The Panthers hit .443 over the next three sets en route to the victory.

Jessica Weston '17 led Hamilton with 14 kills – one short of her career-high, hitting a team-best .591. Courtney Brown '18 added 12 and Donahue finished with 10.

Jamie Granskie '16 matched a personal best with 22 digs. Brown contributed 10 and Meghan Wilkinson '19 notched nine. Wilkinson and Kyndal Burdin '18 both collected 18 assists.

Middlebury's Becca Raffel paced all players with 17 kills with Isabel Sessions and Eliana Schaefer contributing 14 and 11, respectively. Schaefer hit .423 and Raffel hit .349. Melanie English, who recorded 10 kills, hit a team-high .500. Hannah Blackburn had 40 assists and 11 digs. Raffel topped the team with 15 digs and Charlotte Devine finished with 14.

Both teams travel to Saratoga Springs, N.Y., on Saturday for the Skidmore Classic. Hamilton faces Colby-Sawyer at 1 p.m. and takes on the host Thoroughbreds at 3 p.m.