Volleyball tripped up at Wesleyan in season finale
---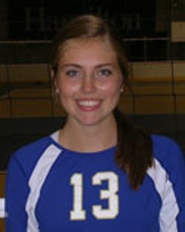 Wesleyan University boasted a balanced attack as three players posted at least 10 kills and the Cardinals topped Hamilton College in four sets in a NESCAC match at Wesleyan's Silloway Gymnasium on Oct. 27.

The Cardinals (9-14 overall, 2-8 NESCAC) won by scores of 25-15, 20-25, 25-13 and 25-21. Monica Leslie '14 led the attack with 13 kills and a .522 hitting percentage. Kim Farris '14 added 12 kills and Kate Centofanti '14 recorded 10. Centofanti also served up a match-high eight aces. Wesleyan finished with 15 aces compared to six for Hamilton.

Brenna Tharnstrom '16 passed out 37 assists and Sofia Davila '16 had a team-high 10 digs. Laura Volgenau '13 had four blocks and Abby Southam '16 and Leslie each had three.

Brenna Corrigan '14 smashed a team-high 13 kills and three aces and added eight digs for the Continentals (11-16, 1-9). Courtney Somerville '16 and Blaire Frett '16 each smacked eight kills and owned impressive hitting percentages. Somerville posted a .429 hitting percentage and Frett finished at .333.

Emma Lonadier '15 dished out 19 assists and Sarah Pfund '14 added 15. Anna Brown '15 and Emily Rosen '15 led the defense with 12 and 10 digs, respectively. Ally Martella '13 led the team with four blocks and Erin Casey '15 and Frett chipped in three apiece. Martella ended up fourth on the program's all-time list with 266 career blocks.

After dropping the first set, the Continentals used a nice run of seven straight points to come out victorious in the second set, and tie the match. The Cardinals dominated the third set before closing out the match with a close fourth set.

Neither team qualified for the NESCAC championship and both ended their seasons on Saturday.