Volleyball drops conference match at Conn. College
---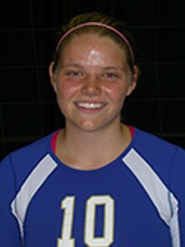 Katie Ketcham '13 recorded five kills, nine digs and passed out 33 assists as Connecticut College swept Hamilton College 3-0 in a NESCAC match at Conn. College's Luce Field House on Oct. 26.

The Camels (20-2 overall, 8-2 NESCAC), who won their 10th consecutive match, defeated the Continentals by scores of 25-22, 25-13 and 25-19.

Rachel Schroff '13 posted 12 kills and eight digs. Caroline Martin '16 added 11 kills, eight digs and a match-high four aces. Carly Guiducci '13 led the defensive charge with 16 digs and Andrea Mullaney '16 contributed four blocks.

Brenna Corrigan '13 smacked a team-high five kills for the Continentals. Blaire Frett '16 recorded four kills and tied with Erin Casey '15 for a team-high five blocks. Emma Lonadier '15 served up nine assists and Anna Brown '15 led the defense with 11 digs.

The Continentals (11-15, 1-8) close out their season on Saturday, Oct. 27, at Wesleyan University. Conn. College finishes up its regular season slate with two non-conference matches on Saturday before the Camels enter the NESCAC championship.