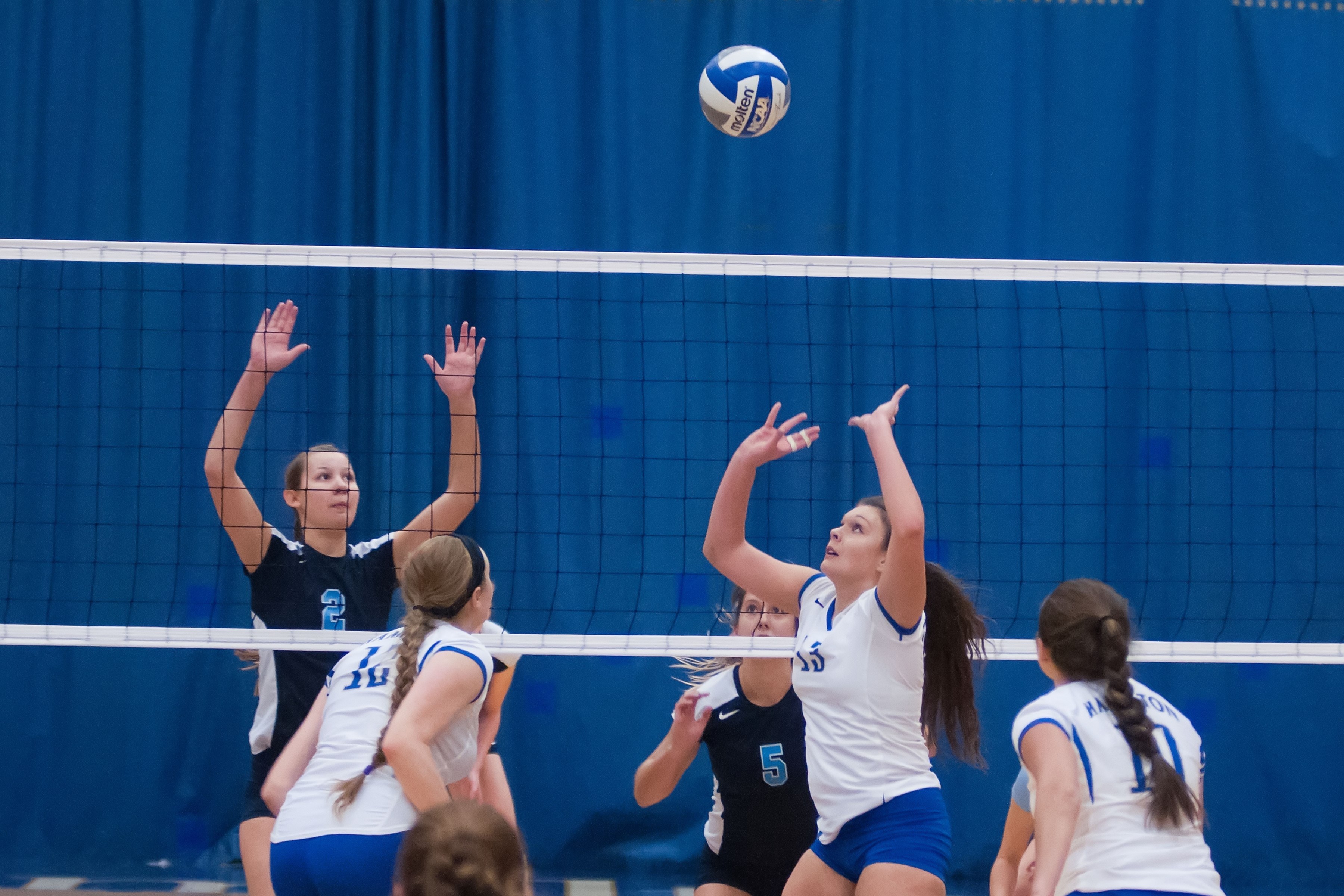 Hamilton College's rally came up just short in a five-set loss to the Williams College Ephs in a 2014 NESCAC Volleyball Championship quarterfinal at Tufts University's Chase Gymnasium on Nov. 7.

Box Score

Williams (23-4 overall) -- the No. 2 seed for the championship -- won the first two sets by scores of 25-11 and 25-20 but had to prevail 15-12 in a tense fifth set to move on to Saturday's semifinals. The Ephs are playing for their ninth NESCAC title and are 31-7 all-time in this event. Williams, which defeated the Continentals at home in four sets back on Oct. 3, is ranked No. 1 in the New England Region by the NCAA.

Hamilton (15-12) was the No. 7 seed and was in the postseason for the first time since 2000 when all 11 teams played in the NESCAC championship. The Continentals almost completed the improbable comeback from two sets down by edging the Ephs 25-23 in the third and 30-28 in an epic fourth set.

Emma Lonadier '15 and Courtney Brown '18 led Hamilton with 13 kills apiece. Erin Casey '15 and Jessica Weston '17 chipped in nine and Weston added a team-high five blocks. Kyndal Burdin '18 was credited with 42 assists.

Anna Brown '15 led all players with 28 digs and finished her career with 1,683. Brown ended up just three digs shy of tying the Continentals' career record set by Amber O'Connor '09 from 2005 to 2008. Christine Zizzi '18 contributed 12 digs and Emily Rosen '15 had 11.

Margaret O'Brien '18 helped lead the Hamilton defense at the net with four blocks, including three solo. O'Brien entered the evening ranked 13th in Division III with 1.19 blocks per set.

Williams' Tori Jasuta -- second in the NESCAC with 330 kills -- finished with a match-high 20. Claire Miller pounded 14 and Raea Rasmussen smacked 10. Jasuta also helped lead the defense with 25 digs. Ryan Farley filled the stat sheet with 52 assists, four aces and 17 digs. Catie Benell recorded 18 digs and Katherine Lane posted six blocks. The Ephs enjoyed a 13-2 advantage in service aces.

The Continentals trailed just 6-5 in the first set but Williams ran off 15 of the next 16 points and cruised to the win. Jasuta and Lane had four kills apiece and Farley served three aces. Williams had a .667 hitting percentage with 16 kills and only two errors in 21 attempts.

Hamilton showed the first signs of what was to come as it led 19-16 and 20-19 in the second set before the Ephs rattled off the last six points for a two-set lead. Jasuta recorded three kills and six digs for Williams.

The Continentals broke through and took the third set behind four kills by O'Brien and eight digs by Zizzi. Casey gave Hamilton the lead for good at 23-22 with a kill. In a fourth set that went extra, the Continentals served five times for set point before finally winning on kills by Casey and Courtney Brown. Anna Brown was tremendous defensively with 13 digs, while Lonadier and Courtney Brown smacked five kills apiece.

The decisive fifth set was close, including an 8-8 tie, but the Ephs recorded the next three points and led the rest of the way. Rasmussen closed out the match with a kill and Jasuta led Williams with three kills and five digs.