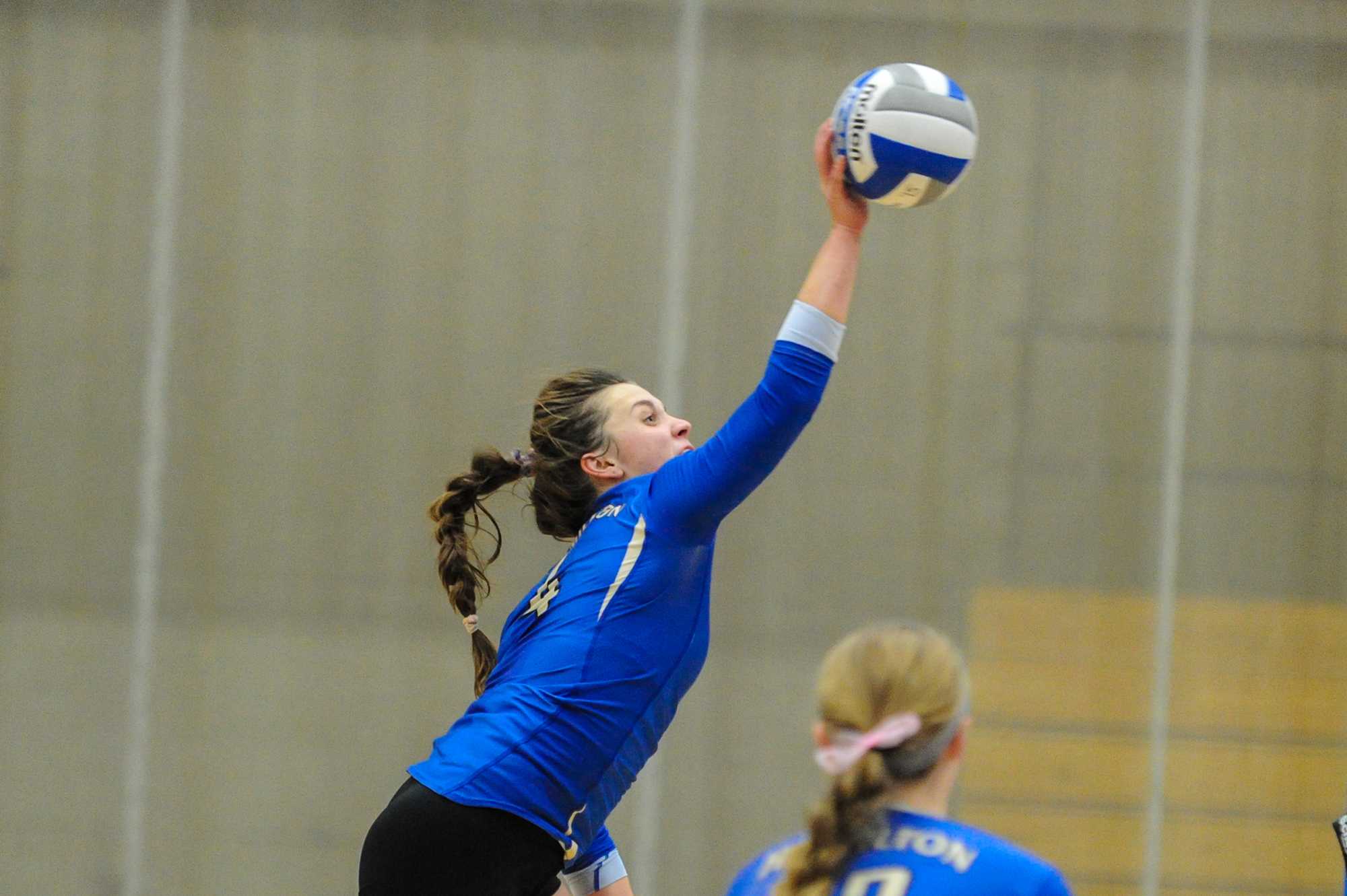 Hamilton College's Erin Donahue '18 posted 14 kills and 14 digs but the Continentals absorbed a four-set NESCAC loss against the Connecticut College Camels at Hamilton's Margaret Bundy Scott Field House on Saturday afternoon.

Box Score

Connecticut Coll. (17-6, 6-4 NESCAC) won for the 11th time in its last 12 matches and claimed the No. 6 seed in the 2015 NESCAC Volleyball Championship. The Camels will take on the third seed Amherst College at Bowdoin College in Brunswick, Maine, on Friday, Nov. 6, at 8 p.m.

The Continentals (6-18, 1-9) wrapped up their season but nearly extended Connecticut Coll. to a fifth set. The set scores were 24-26, 25-13, 25-17 and 27-25.

Jessica Weston '17 chipped in eight kills and posted a hitting percentage of .333 for Hamilton. Weston is ninth in the conference with a .287 hitting percentage this season.

Jamie Granskie '16 led all players with 24 digs in her final match for the Continentals. Granskie is ranked second in the NESCAC with 415 digs and is third with 4.56 digs per set.

Margaret O'Brien '18 led Hamilton's defense at the net with a match-high seven blocks. O'Brien is fifth in the conference with 67 blocks, despite the fact she missed four matches this year.

Meghan Wilkinson '19 was credited with 13 assists and Kyndal Burdin '18 added 11 for the Continentals. Sophie Zacharakis '19 recorded 11 digs and four blocks, and Jenna Donovan '19 served three aces.

For the Camels, Sam Hunter led the way with 22 kills. Ella Johnson had 16 kills and just four errors in 24 attempts for a .500 hitting percentage. Jenny Kellogg hammered 13 kills.

Katia Elisman passed out 55 assists and added three aces for the winners. Cailyn Straubel paced Connecticut Coll. with 21 digs and Elisman, Kellogg and Caroline Martin finished with 17 each. Johnson was in on four of the Camels' seven total team blocks.