Volleyball falls to Trinity in NESCAC action
---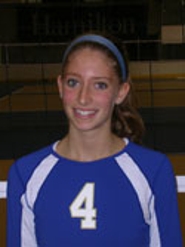 Kate Giddens '16 recorded a double-double with a match-high 14 kills to go with 15 digs as Trinity College defeated Hamilton College in four sets in a NESCAC match at Hamilton's Margaret Bundy Scott Field House on Sept. 28.

The Bantams (6-4 overall, 2-2 NESCAC) won by scores of 25-20, 25-23, 23-25 and 25-20. With the win, Trinity ended a three-match losing streak.
Hannah Brickley '15 contributed a double-double as well with 12 kills and a match-high 21 digs for the winners. Brickley and Giddens served three aces apiece. Amy Hackett '14 added a match-high 22 assists and Katie Stueber '16 led the defense with six blocks.

Sarah Pfund '14 led the Continentals with her third double-double of the year with 12 digs and a team-high 18 assists. A balanced attack by Hamilton led to six players with at least six kills. Ally Martella '13 and Brenna Corrigan '14 led the team with eight kills apiece. Blaire Frett '16 and Amanda Cohen '13 added seven kills apiece, and Erin Casey '15 and Courtney Somerville '16 chipped in six kills apiece.

Emma Londaier '15 tacked on 15 assists and Anna Brown '15 led the Continentals with 17 digs. Frett paced the defense with three blocks and Emily Rosen '15 served a career-high four aces.

After dropping the first set, Hamilton jumped out to an early 8-3 lead in the second set. Trinity rallied to take a 14-12 lead, but the Continentals connected on eight straight points for a 20-14 advantage. Trinity answered back with six consecutive points to tie the score at 20-20 before finally winning 25-23.

Hamilton (6-7, 1-2) dominated the third set and led 24-18 only to have the Bantams close to within 24-23. The Continentals were able to notch one final point to win the set.

In the fourth set, the score was tied at 10-10 before Trinity broke away for a 16-11 lead. Hamilton battled back and scored seven of the next eight points to tie the score at 17-17. After the Bantams recorded the next three points, Hamilton crawled back to within one at 20-19. The teams exchanged sideouts before Trinity rattled off the final four points to win the set.

The Continentals host Amherst College in NESCAC play on Saturday, Sept. 29, at noon and take on SUNY New Paltz in non-conference action at 4 p.m.