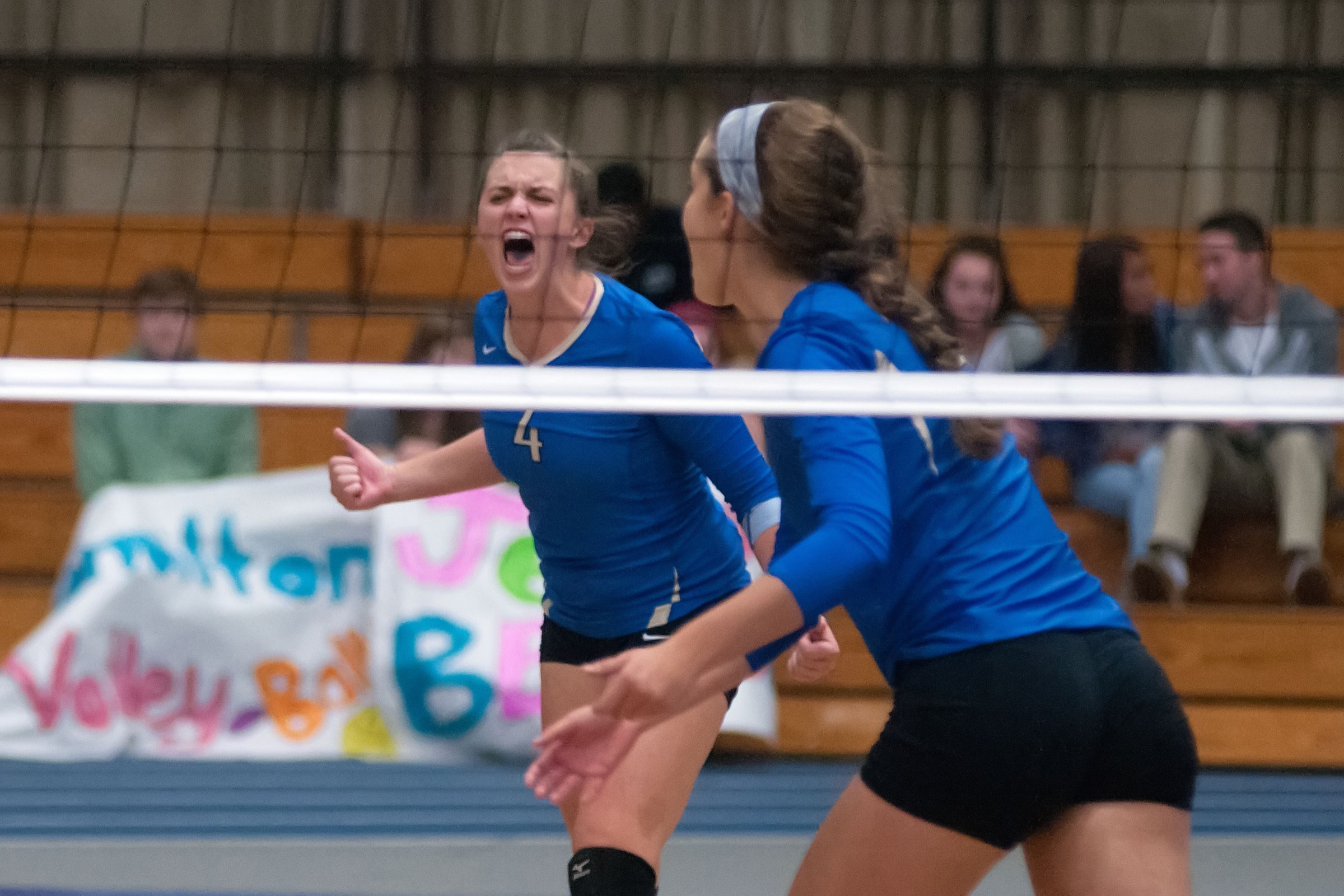 The Hamilton College volleyball team rallied from a set down to post a 3-2 win at NESCAC rival Trinity College on Saturday afternoon in Oosting Gymnasium. With the win – the first time the Continentals have ever beaten Trinity in a conference match – Hamilton clinched a berth in the NESCAC Championship for the first time since only the top eight teams qualified in 2001.

Box score

The Continentals (13-8, 4-4 NESCAC) will be one of eight teams competing in the NESCAC tournament, a single-elimination event hosted by the regular season's first-place finisher from Nov. 7 to Nov. 9. The conference's automatic bid to the 2014 NCAA championship will be at stake.

After the teams split the first two sets (the hosts opened with a 25-23 win and Hamilton followed with a 25-16 triumph), the Bantams took a 2-1 lead by winning the third set 28-26. The Continentals tied the match with a 25-23 victory and sealed their 13th win of the season by claiming the fifth set, 15-13.

Erin Donahue '18 led the visitors with a career-best 16 kills. Margaret O'Brien '18 and Jessica Weston '17 added 12 apiece and Emma Lonadier '15 finished with 10.

Weston led all players with a personal-high six service aces and contributed five blocks. O'Brien led Hamilton's blockers with six and is ranked 17th in Division III in blocks per set.

Kyndal Burdin '18 collected 41 assists (she's averaging 8.7 per set over the last five matches) to go along with nine digs and three blocks. Anna Brown '15 paced the Continentals with 31 digs. Emily Rosen '15 contributed 14 with Jamie Granskie '16 and Christine Zizzi '18 each collecting 10.

For the Bantams, who fell to 11-8 overall and 3-6 in the NESCAC with their fourth straight loss, Kate Giddens '16 finished with a match-high 26 kills and added team-best figures of 16 digs and four aces. Hunter Drews '16, who had 10 kills, matched Giddens with 16 digs. Gina Buzzelli '16 and Randi Whitham '17 both totaled 20 assists.

Both teams compete at next weekend's Hall of Fame Classic, hosted by Amherst College and Smith College. Hamilton opens play on Friday, Oct. 24, against Bridgewater State at 7 p.m.