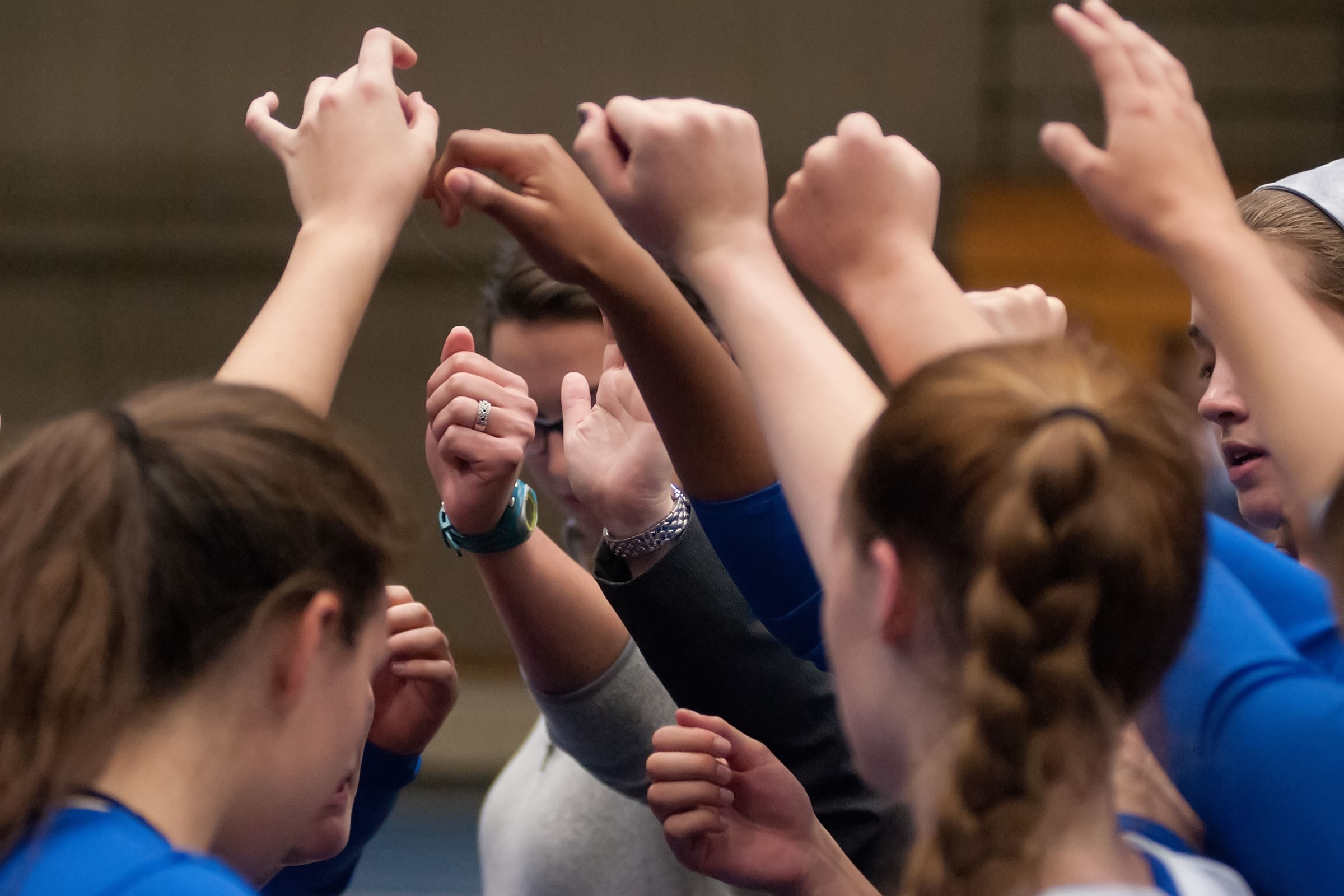 The Hamilton College volleyball team opened its final weekend of regular-season play with a 3-0 loss to Tufts University on Friday night at Margaret Bundy Scott Field House in a match-up of teams bound for next week's 2014 NESCAC Championship.

Box score

The Jumbos (18-7, 8-1 NESCAC) won by scores of 25-15, 25-20 and 25-15. Tufts sits atop the league standings and can clinch the top seed in the playoffs with another win at Middlebury on Saturday, Nov. 1.

The Continentals (15-10, 4-5) held just one lead in the match, going ahead 6-5 in the second set on a service ace by Christine Zizzi '18 that capped a run of three straight points. The Jumbos scored the next four points before Hamilton fought back to tie the score at 10 (an ace by Emily Rosen '15 knotted the score). Tufts then pulled away with a 7-1 spurt. Hamilton rallied one more time, pulling to within 19-17 behind Zizzi's service. After Tufts went up 23-20, an unassisted kill by Elizabeth Ahrens '17 set up the Jumbos for set point and they scored it on an ace by Carolina Berger '16.

Tufts took the opener after going up 8-2 to start the set. Isabel Kuhel '15, who led all players with 10 blocks, recorded blocks on consecutive points during the opening run. The Continentals closed to within 15-11 but two more blocks by Kuhel highlighted three straight Tufts points and the Jumbos went on to the 1-0 lead.

In the final set, Hayley Hopper '15 served four straight points for the Jumbos, who pulled away for the clinching win.

Kyndal Burdin '18 led the Continentals with 17 assists; she and Emma Lonadier '15 had a team-best five kills apiece. Anna Brown '15 collected 20 digs with Lonadier contributing 10. Brown and Zizzi both had a pair of service aces.

For Tufts, Katie Kim '18 notched 10 kills without an error in 17 attempts and had a hand in three of the Jumbos' 14 blocks. Kyra Baum ''16 posted team-best figures of 31 assists and 14 digs with Hopper and Jessica Ingrum '15 adding 10 digs apiece. Ahrens finished with four blocks and Hopper and Ingrum both picked up eight kills.

Both teams close out the regular season on Saturday as Hamilton hosts Connecticut College at 2 p.m. The Continentals can clinch the NESCAC tournament's sixth seed with a win, which would pit them against third-seeded Amherst College in Friday's quarterfinal.