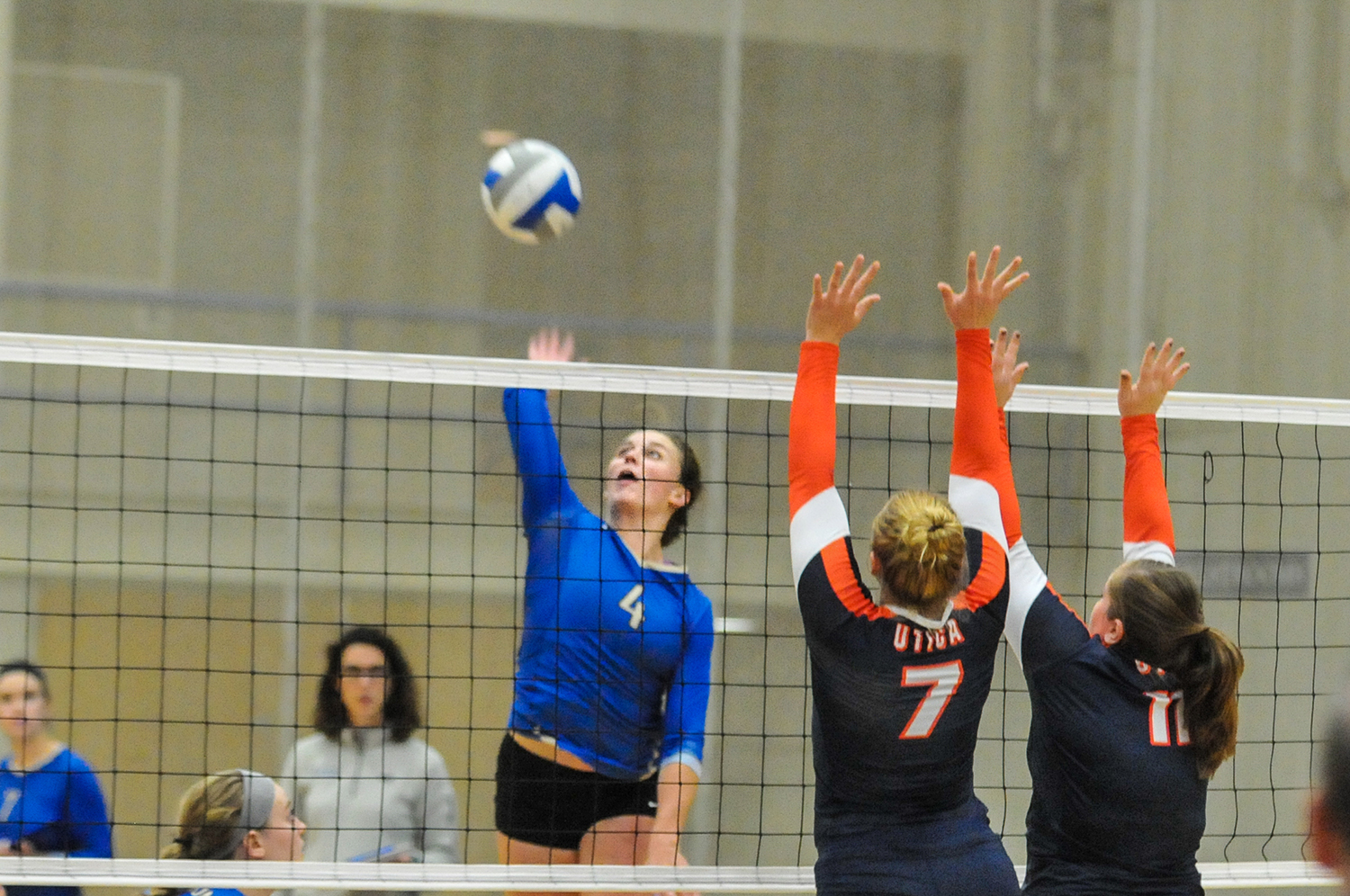 Hamilton College won two out of three matches at the 2015 Hall of Fame Tournament at Smith College and Amherst College on Friday night and Saturday.

Springfield stats | Smith stats | Westfield stats

The Continentals (6-16 overall) defeated Smith in four sets (25-15, 25-14, 19-25, 25-16) on its home court on Saturday morning and posted a four-set victory (25-17, 22-25, 25-12, 25-13) against Westfield State University on Saturday afternoon. Hamilton was swept by Springfield College in three sets (25-18, 25-23, 25-9) on Friday at Smith. Springfield (24-2) received votes in the latest Division III Top 25 coaches poll. The Continentals' Erin Donahue '18 was selected for the all-tournament team.

Against Smith (4-20), Donahue led the way with 14 kills and added 16 digs. Jessica Weston '17 chipped in 13 kills and Claire Kitz '19 had nine. Meghan Wilkinson '19 was credited with 20 assists and Kyndal Burdin '18 passed out 15. Sophie Zacharakis '19 and Tayzia Santiago '19 served three aces apiece and Jamie Granskie '16 led all players with 20 digs. Zacharakis helped lead the defense with 16 digs.

Against Westfield State (12-13), Weston hammered a match-high 14 kills and Donahue added 10. Burdin posted 21 assists and Wilkinson had 18. Granskie served five aces and finished with 25 digs. Donahue recorded 21 digs and Zacharakis and Wilkinson ended up with 11 apiece. Margaret O'Brien '18 led the defense at the net with eight blocks and Donahue, Weston and Claire Kitz '19 all had four. Hamilton registered 13 blocks as a team.

Against Springfield, Donahue and O'Brien smashed eight kills apiece. Wilkinson led the team with 16 assists and Granskie and Zacharakis had nine digs apiece. O'Brien paced the squad with four blocks.

The Continentals host Tufts University for a NESCAC match on Friday, Oct. 30, at 8 p.m. It will be Hamilton's Dig Pink match.