Guttman and Wall '10 Present Paper at Oxford
---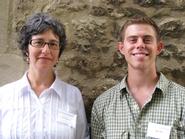 Professor of English and Creative Writing Naomi Guttman and Watson Fellow Max Wall '10 presented a paper at the Oxford Symposium on Food and Cookery, held at St. Catherine's College, Oxford University, in July. The theme for 2010 was "Cured, Fermented and Smoked Foods," and the paper "Sausage-in-Oil: Preserving Italian Culture in Utica, New York" discussed the continued cultural significance among Italian-Americans of making dry-cured sausages in the home to share with family and friends.
Using interviews and comparing different family recipes and traditions, the paper makes the case that what was once a survival mechanism has become a means of cultural and ethnic transmission and preservation passed from one generation to the next.
The symposium, which launched Wall on his tour of the "fermented world" as a Watson Fellow, "brings together writers, historians, sociologists, anthropologists, scientists, chefs and others who specialize in the study of food in history, its place in contemporary societies, and related scientific developments. It is attended each year by as many as 200 people from around the world, providing a meeting place for anyone interested in the issues raised by the theme selected for discussion."
To read more about Wall and his year-long project "Cultivating Cultures: Exploring Fermented Foodways," see his blog
here.