Walley Goes Green is 9th Annual FebFest Theme
---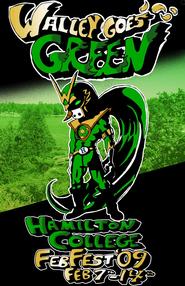 Hamilton's 9th annual winter carnival, FebFest, will take place on Feb. 7-14 on campus. This year's theme is Walley Goes Green. Highlights will include a Light Side vs. Dark Side snowball fight, snow touch football, a snoccer tournament and a Mr. Hamilton contest. View the complete schedule
here
.
Other events that require purchase of button for entrance include a Campus Activities Board concert by Ghostface Killah on Feb. 7, a chocolate tasting and a midnight breakfast bar. Students can purchase a button for $5 at Beinecke Student Activities Center or at each event.
Hamilton's first winter carnival was held in 1938, with events such as a hockey game, dance parties, crowning of the carnival queen and a figure skating exhibition by James and Grace Madden of the U.S. Olympic Team. The tradition continued with similar events until the mid-'50s, when it lost popularity. The winter carnival returned to the Hill in 2000 through the efforts of students and Student Activities staff. FebFest aims to liven up the Hill and provide the community a distraction from the cold, snow and work.
Events that are open to the public include an outdoor open skate on Feb. 8 on the new rink on Dunham Quad; a Figure Skating Club performance on Feb. 11 at Sage Rink and the annual FebFest fireworks display on Friday, Feb. 13, at 7:30 p.m. on the baseball field.