Wang '12 Explores Gambling Among Chinese Immigrants
---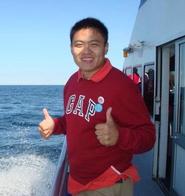 In his neighborhood of Flushing, Queens, Xiang Wang '12 watches as the lifeblood of the Chinese immigrant community is drained away. Some of these immigrants, out of a desire to "get rich quick," have turned to gambling. These parents spend much of their time at casinos instead of getting jobs and funding their children's education. Advised by Luce Junior Professor of Asian Studies and Anthropology Christopher Vasantkumar, Wang was awarded an Emerson grant to further explore the causes and effects of this detrimental trend.

Chinese-Americans are stereotyped as extremely hardworking in the United States. But the life of an immigrant is a very lonely one, especially if the immigrant is a "trailblazer," or the first of his or her family to arrive in the U.S. Solitude, poverty and language barriers threaten immigrants at every turn, causing many people to go to casinos for entertainment and the potential to get rich quick. According to a report by China Press USA on Jan 10, 2010, of the 445,145 Chinese-Americans in greater New York City, about 4,100 of them visit casinos each day.

Chinese immigrants are particularly susceptible to the temptations of casinos, Wang said. In 1979, China implemented a new economic policy that diverged from the Soviet example. This policy, called the Open-Up Policy, allowed a free market and encouraged entrepreneurship, which allowed China to engage in economic competition with the rest of the world. In the 30 years since then, China has interacted with the world faster than ever before, Wang noted, leading to many economic benefits. "I think the ego of being the world economic superpower has come back [to the Chinese]," Wang observed. "People cannot wait to get rich and try any means to do so as fast as they can."

And the casinos have caught on. "The casinos have many Chinese- and Cantonese-speaking dealers, and Chinese entertainers come from mainland China to perform there," Wang said. "They have Chinese food in casinos. They even have a VIP gambling section exclusively for Chinese people, where Chinese gamblers play Chinese gambling games such as pai gow and baccarat. Chinese people feel like they are well-treated and served in casinos."

The effects of this serial gambling are far-reaching for second-generation Chinese. Instead of encouraging their children to do their homework or get involved in after-school activities, parents bring their children to the casinos when they want to gamble. "The parents leave their kids in Dave & Buster's while they play blackjack and slot machines. You can imagine how irresponsible the parents are," Wang remarked.

And when the children graduate from high school, the parents often do not have the money to send them to college because the money is being funneled in to gambling. The children themselves may even get into gambling, but their trajectory depends how the parents, schools and community leaders educate them. "If my parents gamble all the time and forget about me and my future, my life track will be very different from [that of] kids with non-gambling parents who educate them not to go to casinos at all because there is no such shortcut in life," Wang said.

A few non-profit organizations are beginning to intervene. One major organization, the Nathan Kline Institute, has hosted a lecture on the dangers of gambling, issued a questionnaire, and established a gambling addiction helpline in Queens. The Chinese American Planning Council has established the College Gateway program, which is a free workshop that helps students with SAT prep, takes them to visit different colleges, and even offers free college application consultation.

But Wang thinks these organizations need to do more, such as provide free Chinese movie nights and cheap field trips so that people would have other ways to be entertained. They need to provide job training and English classes so that immigrants can become better assimilated into U.S. culture, and offer "immigration workshops" to help immigrants bring their families to the U.S. Finally, Wang said, they need to publicize the services they already have available, as many Chinese-Americans do not know about them. With these steps, he believes that the next generation of Chinese-Americans can be better assimilated, better educated, and less inclined to gamble.

Wang is a graduate of the Manhattan Comprehensive Night and Day High School.