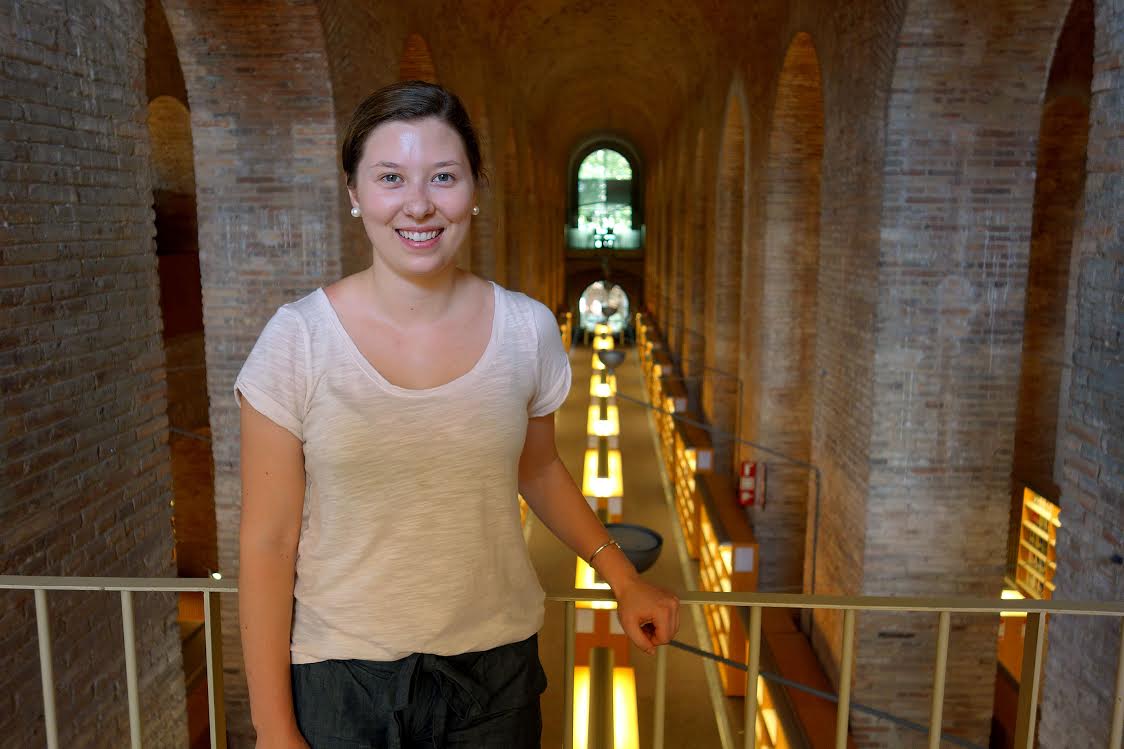 Elana Van Arnam '17 is pursuing research into one of Spain's most commonly misunderstood monarchs: Juana I of Castile. Popularly known as "Juana la Loca," or Juana the Mad, the Queen is one of the most iconic figures in early-modern Spanish history. Van Arnam's summer research is funded through an Emerson Summer Collaborative Research Award, and is being directed by Assistant Professor of Hispanic Studies Xavier Tubau.
"Juana's legacy for the almost 500 years since her death has been solidified as a crazy woman and incompetent ruler," explained Van Arnam. "Most of the research done on Juana and her life has only been to determine whether or not she really was mentally ill, or to what extent." In recent years there has been a new wave of scholarship investigating not only Juana's mental state, but also the circumstances surrounding her life and rule, Van Arnam observed. In following this new path of research, Van Arnam's investigation is focusing on the competing household cultures and politics present in Juana's households in Castile and later in Burgundy after her marriage to Philip I of the Habsburg dynasty.
"By studying in Barcelona I have access to primary sources—correspondence, treasury records and first-hand accounts of court officers—from the lives of Juana and her immediate family," Van Arnam remarked. These primary documents, in conjunction with broader study of early modern courts and households, have formed the foundation for the most recent research surrounding Juana's life and reign.
This broader review of cultural norms and phenomena of the time is tremendously important, as misconceptions concerning Juana are not only rooted in the popular portrayal of her madness, but also in profound ignorance of the political realities of the day. "There is a common misconception that a sovereign held the utmost power—political and otherwise—not only in his or her kingdom but also in the household," claimed Van Arnam.
"The failure to acknowledge the role that politics played in each household fuels Juana's long misrepresentation in history. The story of a mentally ill yet powerful queen is much more entertaining than that of a woman who was caught in a tangle of competing political, family and dynastic interests, but it yields a false account of her life," she added.
Van Arnam said that beyond what she learned regarding Juana's rule and early-modern Spanish history, she was eager to undertake this project as it provided a valuable experience exploring the difficulties of practical research. "Conducting the research itself has been its own learning experience," she posited. "I have never done research on this scale before, and I have learned about the various obstacles involved—everything from dead ends to simply having trouble gaining access to primary documents." Given her hopes to proceed with graduate research, Van Arnam was grateful to develop the perseverance necessary for research, as well as to experience the gratification inherent in completing such a wide ranging project. She hopes that this project will be regarded as one among many other studies that challenge history's misrepresentation of seemingly powerful women.