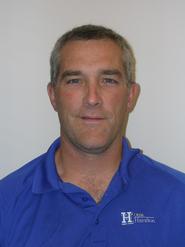 Rob Weber, formerly the head rowing coach at Franklin & Marshall College since 2010, is the new head men's and women's crew coach at Hamilton College.

Weber was selected the Mid-Atlantic Rowing Conference Men's Coach of the Year in 2012. He was also an assistant coach at Franklin & Marshall from 2008 to 2010. Weber replaces Eric Summers, who left Hamilton after 10 seasons to become the associate athletic director at SUNY Oswego.

"I'm very excited to be at Hamilton," Weber said. "Coach Summers has built strong men's and women's rowing programs here, and I look forward to the challenge of building on that success and guiding the teams forward as they take the next step in their development."

Weber served as a volunteer assistant coach at the USRowing Princeton Training Center during the summers of 2013 and 2014. He coached the U.S. Women's Senior National Team straight four to a gold medal at the 2013 World Rowing Championships in Chungju, South Korea, and a silver medal at the 2014 world championships in Amsterdam, The Netherlands.

"We are thrilled to have Rob Weber join us as head coach of our rowing programs," Director of Athletics Jon Hind '80 said. "Coach Weber has been very successful coaching a variety of different rowing programs, and I'm excited to have him lead our programs into the future."

Weber was the women's U23 head coach for the Pennsylvania Athletic Club Rowing Association during the summers of 2011 and 2012. Prior to his time at Franklin & Marshall, Weber was the men's novice coach at Savannah College of Art & Design in 2006-07 and the women's varsity and novice coach for the College of William & Mary Rowing Club in 2005-06.

Weber is a member of the Collegiate Rowing Coaches Association (CRCA) and he was a CRCA Division III pollster in 2014. He has been on the NCAA Division III Rowing National Committee and the Mid-Atlantic Regional Advisory Committee since 2011.

Weber graduated magna cum laude from Wabash College and was a member of Phi Beta Kappa, the nation's oldest honor society. He holds master's degrees from the University of Kentucky and William & Mary.